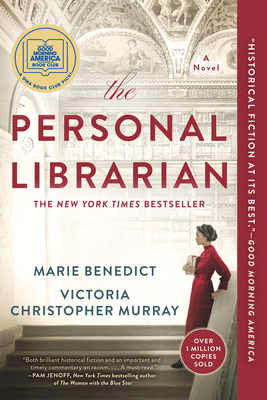 The Personal Librarian: A GMA Book Club Pick (A Novel)
Publication Date:
June 7th, 2022
Usually Ships in 1 to 5 Days
I dearly loved this historical fiction based on the life of J.P. Morgan's personal librarian. My favorite combination of entertaining and educational!
July 2021 Indie Next List
Description
The Instant New York Times Bestseller! A Good Morning America* Book Club Pick!
Named a Best Book of the Year by NPR! Named a Notable Book of the Year by the Washington Post!
"Historical fiction at its best!"*
 
A remarkable novel about J. P. Morgan's personal librarian, Belle da Costa Greene, the Black American woman who was forced to hide her true identity and pass as white in order to leave a lasting legacy that enriched our nation, from New York Times bestselling authors Marie Benedict and Victoria Christopher Murray.
In her twenties, Belle da Costa Greene is hired by J. P. Morgan to curate a collection of rare manuscripts, books, and artwork for his newly built Pierpont Morgan Library. Belle becomes a fixture in New York City society and one of the most powerful people in the art and book world, known for her impeccable taste and shrewd negotiating for critical works as she helps create a world-class collection.
But Belle has a secret, one she must protect at all costs. She was born not Belle da Costa Greene but Belle Marion Greener. She is the daughter of Richard Greener, the first Black graduate of Harvard and a well-known advocate for equality. Belle's complexion isn't dark because of her alleged Portuguese heritage that lets her pass as white—her complexion is dark because she is African American.
The Personal Librarian tells the story of an extraordinary woman, famous for her intellect, style, and wit, and shares the lengths she must go to—for the protection of her family and her legacy—to preserve her carefully crafted white identity in the racist world in which she lives.
Praise for The Personal Librarian: A GMA Book Club Pick (A Novel)
"Historical fiction at its best…The Personal Librarian spins a complex tale of deceit and allegiance as told through books."
—Good Morning America
"Benedict, who is white, and Murray, who is African American, do a good job of depicting the tightrope Belle walked, and her internal conflict from both sides—wanting to adhere to her mother's wishes and move through the world as white even as she longed to show her father she was proud of her race. Like Belle and her employer, Benedict and Murray had almost instant chemistry, and as a result, the book's narrative is seamless...I became hooked."
—NPR

"A fascinating story!"
—Real Simple
"An extraordinary tale that is both brilliant historical fiction and an important and timely commentary on racism.  By holding up an unflinching mirror and illuminating this little-known chapter in American history, these two gifted authors have penned a work that is a must-read."
—Pam Jenoff, New York Times bestselling author of The Woman with the Blue Star
 
"A marvel of a story. This unflinching look at one woman's meteoric rise through New York's high society is enthralling, lyrical, and rife with danger. Belle's painful secret and her inspiring courage will capture – and break – your heart. Serious kudos to Benedict and Murray for bringing this true story to life."
—Fiona Davis, New York Times bestselling author of The Lions of Fifth Avenue
"The Personal Librarian illuminates the extraordinary life of an exceptional, intelligent woman who had to make the impossible choice to live as an imposter or sacrifice everything she'd achieved and deserved. That Belle denied her true identity in order to protect herself and her family from racial persecution speaks not only to her times but also to ours, a hundred years later. All that glitters is not gold. This is a compelling and important story."
—Therese Anne Fowler, New York Times bestselling author of A Good Neighborhood
"As richly depicted as the lush world of art and literature Belle da Costa Greene presided over…an immersive, sweeping delight as well as an intimate, moving, and powerful portrait of Belle's personal and professional life. An unforgettable, captivating read!"
—Chanel Cleeton, New York Times bestselling author of The Most Beautiful Girl in Cuba
"Meticulously researched, heartbreaking, and inspiring…a fascinating look at a very public figure fighting a deep private battle, whose story still resonates with surprising power and immediacy today."
—Kristin Harmel, New York Times bestselling author of The Book of Lost Names

"An untold story that is simply amazing. It's timely and impactful."
—Brenda Jackson, New York Times bestselling author of Follow Your Heart  
  
"A stunning and timely novel about a woman who, in forging a path for herself, had to battle constantly against the limitations society tried to place upon her due to her gender – and who also had to hide her true identity from a racist world...both a triumph and a fitting tribute to Belle's courage, her fierce desire to protect her family and her personal struggle to be both the woman she was, and the woman she was not allowed to be."
—Natasha Lester, New York Times bestselling author of The Paris Secret

 "An intimate and extraordinary conversation with the past. As Belle da Costa Greene achieves her dreams by forsaking an identity, we wonder if we would or could do the same to irrevocably alter the literary world and our family. A novel abundant with culture, art, literature, and romance—the beauty and recklessness of love are revealed with astonishing clarity."
—Patti Callahan, New York Times bestselling author of Surviving Savannah
"From the moment I picked up The Personal Librarian, I was in awe of Belle da Costa Greene. My heart went out as she navigated the life she lived and the one she hid…. Belle's story couldn't come at a more fitting time as our country faces a united path forward."
—ReShonda Tate Billingsley, National bestselling author of A Little Bit of Karma

"Upon starting this novel, be prepared to do nothing else until you've reached its poignant, reflective end. Through brilliant pacing and with painstaking care, Benedict and Murray paint a vibrant portrait of a woman whose accomplishments, relationships, and secretive history were as complex and intriguing as the collections she helped curate…a timely, provocative read perfect for book clubs. I loved it."
—Kristina McMorris, New York Times bestselling author of Sold on a Monday

"From the opulent gilded age ballrooms of New York, to the fiercely competitive auction houses of Europe, The Personal Librarian is a poignant story of race, class and one woman's struggle to live authentically."
—Renée Rosen, Author of The Social Graces
"The story of Belle da Costa Greene is timely, universal, and enduring. Through it, Benedict and Murray raise questions that are as important now as they were a hundred years ago—questions to which a true historical answer may be less important than the fact that we are continuing to face them in contemporary ways."
—Pittsburgh Post-Gazette
"This fictional account of Greene's life feels authentic; the authors bring to life not only Belle but all those around her. An excellent piece of historical fiction that many readers will find hard to put down."
—Library Journal (starred review)
"A powerful take on the accomplishments of J.P. Morgan's librarian…. Benedict and Murray do a great job capturing Belle's passion and tenacity as she carves a place for herself in a racist male-dominated society. This does fine justice to a remarkable historical figure."
—Publishers Weekly
"Every element of this blockbuster historical novel is compelling and revelatory, beginning with the bedazzling protagonist based with awestruck care on Belle da Costa Greene… a novel of enthralling drama, humor, sensuality, and insight. … [a] resounding tale of a brilliant and resilient woman defying sexism, classism, and racism during the brutality of Jim Crow. Benedict and Murray do splendidly right by Belle in this captivating and profoundly enlightening portrayal."
—Booklist (starred review)
"Kept me intrigued, fascinated, and mesmerized throughout….Everyone should know about the woman who took risks, carved her own path, silenced the naysayers, and forged ahead to becoming one of America's most prominent librarians in history. Definitely a must-read."
—The Nerd Daily
"Both a stunning tribute to an amazingly courageous woman and a searingly timely exploration of race relations in America, The Personal Librarian is an extraordinary novel that will have you frantically googling the key figures to learn more. I won't be ready to part with Belle and her contemporaries for a long time after finishing this one."
—Bookreporter.com