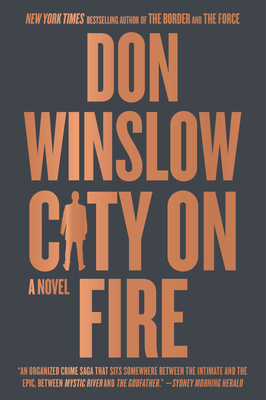 City on Fire: A Novel (The Danny Ryan Trilogy #1)
Publication Date:
March 14th, 2023
Publisher:
William Morrow Paperbacks
Usually Ships in 1 to 5 Days
Winslow's latest lights a fuse on what is sure to be a stand out trilogy in modern crime writing. That he goes back to the classics gives it a strong foundation, but this is vintage Winslow through and through. I can't wait for the follow up!
May 2022 Indie Next List
Description
New York Times Bestseller!
From the #1 internationally bestselling author of the Cartel Trilogy (The Power of the Dog, The Cartel, and The Border), The Force, and Broken comes the first novel in an epic new trilogy.
"Superb. City on Fire is exhilarating." – Stephen King
"Epic, ambitious, majestic, City on Fire is The Godfather for our generation." – Adrian McKinty, New York Times bestselling author of The Chain
Two criminal empires together control all of New England.
Until a beautiful woman comes between the Irish and the Italians, launching a war that will see them kill each other, destroy an alliance, and set a city on fire.
Danny Ryan yearns for a more "legit" life and a place in the sun. But as the bloody conflict stacks body on body and brother turns against brother, Danny has to rise above himself. To save the friends he loves like family and the family he has sworn to protect, he becomes a leader, a ruthless strategist, and a master of a treacherous game in which the winners live and the losers die.
From the gritty streets of Providence to the glittering screens of Hollywood to the golden casinos of Las Vegas, two rival crime families ignite a war that will leave only one standing. The winner will forge a dynasty.
Exploring the classic themes of loyalty, betrayal, and honor, City on Fire is a contemporary masterpiece in the tradition of The Godfather, Casino, and Goodfellas—a thrilling saga from Don Winslow, "America's greatest living crime writer" (Jon Land, Providence Journal).
Praise for City on Fire: A Novel (The Danny Ryan Trilogy #1)
"A masterwork of mob fiction. . . City on Fire does for Rhode Island what David Chase's The Sopranos did for New Jersey. . . It's Winslow's ways with character, as well as his fluid narrative and highly visual scene-setting, that suggest this novel, the first in a planned trilogy, could well end up in the American-mob canon along with the works of Puzo, Scorsese and Chase." — Washington Post
"Gritty, moody, and totally immersive, City on Fire is the first installment in an epic new series that is sure to grip readers from the start. This is Winslow at his very best." — Karin Slaughter, New York Times and internationally bestselling author
"[Winslow's] books. . . . are adrenalized plot machines whose pages seem to turn themselves. . . . You don't read City on Fire so much as you let it take you for a ride." — USA Today
"Pure genius! Nobody can bring such grit and such heart to crime fiction as Don Winslow—and with such a unique and compelling stylistic voice. This sprawling novel, populated with breathtakingly real characters, will grip you from the first page and never loosen its hold, and that remains true long after you've turned the last page. And what a delight that this is the first of a trilogy. Can hardly wait for the others!" — Jeffery Deaver on City on Fire
"The crime fiction canon has no shortage of memorable mob sagas by such masters as Puzo, Ellroy, and Lehane. City on Fire, with its large cast of memorable characters and low-key allusions to classical literature, maintains Mr. Winslow's well-earned place in these ranks." — Wall Street Journal
"Superb. This is storytelling with a keen edge. City on Fire is exhilarating to read." — Stephen King
"A blistering novel filled with anger and bite. . . . Plenty of pain for the characters, plenty of thrills for the reader." — Kirkus Reviews (starred review)
"Don Winslow can hold his own with the best of crime fiction's elite: Mario Puzo, George Higgins, Elmore Leonard. He's a bard of the bad guys and City on Fire is his most relentless book yet. You gotta have it."
— Joe Hill, #1 New York Times Bestselling Author
"Epic, ambitious, majestic, City on Fire is The Godfather for our generation.' — Adrian McKinty, #1 international bestseller and New York Times bestselling author of The Chain
"Winslow's epic slow-burner, full of richly layered characters and tender personal struggles, bubbles to an intricate, exciting climax. Crime fiction fans will eagerly await the sequel." — Publishers Weekly (starred review)
"Winslow is our Dickens of modern crime. I can't think of anyone better at what he does."
— Linwood Barclay, New York Times bestselling author
"Stunning . . . Echoing Homer's epic Iliad, Winslow delivers a fast-paced, intense, and brooding story. It's perfect for readers of William Boyle, James Lee Burke, and Dennis Lehane." — Library Journal (starred review)
"City on Fire is the best gangster novel since The Godfather."
— Steve Cavanagh, bestselling author of the Eddie Flynn series

"This completely immersive opening act signals a trilogy in the offing that will possess all the power of Winslow's celebrated Cartel novels."  — Booklist (starred review)
"A superior example of the gangster genre." — Sunday Telegraph (UK)
"Winslow's previous Cartel trilogy is an astonishing achievement that will be hard to beat, but on the strength of this immersive and humane tale of fate, free will, loyalty and betrayal, his new series will rank alongside it." — The Guardian (UK)
"No one fuses action with emotion like Winslow." — The Times (UK)
"Expert and convincing, with plenty of plot surprises." — Toronto Star
"Rich in action and riveting characters, hugely entertaining, City on Fire brings the reader into a fable about the escalating stakes of underworld warfare, with an emotional depth that lingers long after the book is finished."  — Kyle Perry, author of The Bluffs
"Remarkable . . . breathtakingly panoramic and infinitesimally focused." — Financial Times
"An intricately woven crime story. . . . Propulsive." — Pittsburgh Post-Gazette
"City on Fire is as incendiary as its title suggests; a tale of family and friendship, carnage and corruption, that draws on the classics but has roots in the here and now. It ranks alongside his best, and Winslow's best is as good as it gets."
— Mick Herron, CWA Gold and Steel Dagger-Winning Author of Slow Horses
"This superb novel, by the writer of the Cartel trilogy of narco-thrillers, is a bloody tale of greed, lust and violent retribution, and based on various Greek myths, including Helen of Troy." — The Sun (UK)
"The dialogue and action ring true and move the story along quickly, with Winslow's skillful blending of culture, nationality and even race creating an atmosphere that is as convincing as it is compelling. And the end of the first volume in the planned series will leave readers ready for more." — St. Louis Post-Dispatch
"As he did in the Cartel trilogy, Winslow adeptly manages the comings and goings of a large cast of characters. . . . By the end of this well crafted, troubling epic, enough people are left standing to offer hope of a future for these deeply flawed families. That, plus a hint that Danny Ryan is heading to a 'warmer shore,' should lure readers to the next installment of what's shaping up as Winslow's next juggernaut of a modern-day epic." — Los Angeles Times
"Winslow is a master." — Boston Globe
"City on Fire is superb. Danny is an engaging character, a young man caught up in unwanted destiny. But the zinger is the dialogue. It rings so true that you might think you're eavesdropping in an Italian restaurant or an Irish bar in an ethnic neighborhood in Providence." — Denver Post
"It's a brilliantly crafted tale in its own right — standing apart from its classical model — a moving evocation of familial and marital love, of friendship and loyalty, and of redemption from near-tragedy." — Washington Independent Review of Books
"The dialogue and action ring true and move the story along quickly, with Winslow's skillful blending of culture, nationality and even race creating an atmosphere that is as convincing as it is compelling." — St. Louis Post-Dispatch
"Don Winslow's City on Fire is a masterpiece—wonderfully crafted, beautifully written, and a propulsive, authentic page-turner." — Christian White, bestselling author of The Nowhere Child
"Operating at the peak of his game. . . Winslow has always excelled at portraying the seedy exploits of mobsters and corrupt police on an operatic scale. . . . When the bodies start inevitably piling up, the stakes of this local gang war couldn't seem higher."  — Shelf Awareness
"City on Fire is a crime novel you won't put down voluntarily. It's an instant classic in the genre." — New York Journal of Books
"This is the kind of book you need to hook into your veins and let loose in your bloodstream." — Globe and Mail
"A complex and dizzyingly hooky story of warfare between Irish and Italian mobs in Providence during the 1980s, City on Fire shows Winslow riffing in virtuoso fashion using such intriguing source material as the Aeneid and the Iliad. There are no strands of Life's Gordian knot Winslow doesn't expertly tug here, and the characters and plot layers are phenomenal. It's so good I plugged in an industrial blade-fan so I could get the pages to turn faster." — The Day (CT)
"City on Fire is a real barn burner that sees Danny Ryan looking into the sun, imagining what the future will bring for him. I am right there next to him, eagerly awaiting the trials and tribulations that he will be forced to undergo in the middle part of this impressive saga." — Bookreporter
"A tour-de-force of the criminal underground. . . . A fierce, biting read." — The News Courier
"Magnificent . . . . Hilarious and violent, moody and buoyant, brooding and playful . . . . What's magical is that we may've never heard it told so well." — Open Letters Review