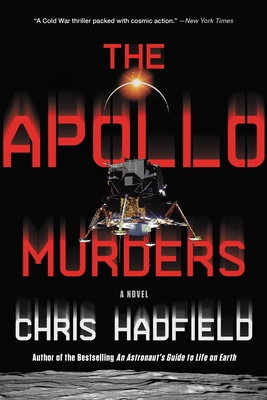 The Apollo Murders (The Apollo Murders Series #1)
Publication Date:
August 2nd, 2022
Publisher:
Mulholland Books
Usually Ships in 1 to 5 Days
Description
From New York Times bestselling author and astronaut Chris Hadfield comes this exceptional thriller and "exciting journey" into the dark heart of the Cold War and the space race (Andy Weir, author of The Martian and Project Hail Mary)—soon to be a major TV series from Altitude and Sylvester Stallone's Balboa Productions.
1973: a final, top-secret mission to the Moon. Three astronauts in a tiny spaceship, a quarter million miles from home. A quarter million miles from help.
NASA is about to launch Apollo 18. While the mission has been billed as a scientific one, flight controller Kazimieras "Kaz" Zemeckis knows there is a darker objective. Intelligence has discovered a secret Soviet space station spying on America, and Apollo 18 may be the only chance to stop it.
But even as Kaz races to keep the NASA crew one step ahead of their Russian rivals, a deadly accident reveals that not everyone involved is quite who they were thought to be. With political stakes stretched to the breaking point, the White House and the Kremlin can only watch as their astronauts collide on the lunar surface, far beyond the reach of law or rescue.
 
Full of the fascinating technical detail that fans of The Martian loved, and reminiscent of the thrilling claustrophobia, twists, and tension of The Hunt for Red October, The Apollo Murders is a high-stakes thriller unlike any other. Chris Hadfield captures the fierce G-forces of launch, the frozen loneliness of space, and the fear of holding on to the outside of a spacecraft orbiting the Earth at 17,000 miles per hour as only someone who has experienced all of these things in real life can.
 
Strap in and count down for the ride of a lifetime.
"Packed with cosmic action… Featuring undercover spies, scheming Russians and psychopathic murderers, sometimes all at once, it teems with authoritative details." —The New York Times
 
"Nail-biting . . . I couldn't put it down." —James Cameron, writer and director of Avatar and Titanic
 
"Not to be missed." —Frederick Forsyth, author of The Day of the Jackal
 
"An explosive thriller by a writer who has actually been to space . . . Strap in for the ride!" —Gregg Hurwitz, author of Orphan X
Praise for The Apollo Murders (The Apollo Murders Series #1)
"Commander Hadfield takes us on an exciting journey into an alternate past. And who better to write about astronauts than an astronaut himself!"—Andy Weir, New York Times bestselling author of The Martian and Project Hail Mary
"A Cold War thriller packed with cosmic action… Featuring undercover spies, scheming Russians and psychopathic murderers, sometimes all at once, it teems with authoritative details about what it might be like, for instance, to throw up in space or to grapple with a deadly Soviet astronaut who assaults you during a spacewalk."—The New York Times
"A nail-biting Cold War thriller set against the desperate Apollo mission that never really happened … or did it? It's a very rare book that combines so many things I love, from taut suspense and highly realistic action, to the golden age of space exploration. I couldn't put it down."—James Cameron, Academy Award-winning writer and director of Avatar and Titanic
"An explosive thriller by a writer who has actually been to space and back . . . Strap in for the ride!"
 —Gregg Hurwitz, New York Times bestselling author of the Orphan X novels
"Not to be missed. Even in fiction there is authenticity. It is either there... or it is not. With Chris Hadfield it is, because everything he describes he has really seen."—Frederick Forsyth, New York Times bestselling author of The Day of the Jackal and The Fox
"Spectacular…Hadfield keeps readers in suspense. His mastery of the details enables him to generate high levels of tension from just a description of a welding error, which cascades into something significant. This is an intelligent and surprising nail-biter that Tom Clancy fans will relish."
 —Publishers Weekly (starred review)
"Hadfield draws on his expertise as an astronaut to add authenticity and realism to his debut thriller. Fans of Clive Cussler and Andy Weir will enjoy this genre-bender combining military fiction, the detective novel, and techno-thriller."—Library Journal (starred review)
"The Apollo Murders has a little something for everyone. A daring spaceflight, political intrigue, a spy thriller, and a good ol' fashioned whodunnit all rolled into one exciting story! This may be Chris Hadfield's first foray into fiction, but I certainly hope it isn't his last."—Space Explored
"There's maybe one person on Earth with the writing chops and the expertise to write a to-the-Moon thriller this exciting, this authentic. Chris Hadfield is that guy."—Linwood Barclay, author of Find You First
"Former astronaut Chris Hadfield gives us a relentlessly exciting, deeply intriguing insider's look at the prime years of the Apollo space program, ingeniously weaving together three of the coldest, darkest things in existence—Cold War politics, space and murder. Hadfield also gives us a hero in former test pilot Kaz who is willing to risk both career and life to stop a trail of blood extending from the earth to the moon. Nothing short of brilliant!"
 —Stephen Mack Jones, author of the August Snow series
"Col. Hadfield's bona fides are unimpeachable—but it's his inventive action sequences and keen eye for illuminating details that propel The Apollo Murders ever skyward. Strap in and brace yourself, because with Hadfield at the stick, you're in for a stellar thrill ride that'll leave you breathless."
 —Chris Holm, author of The Killing Kind
"Chris Hadfield has deftly combined fact and fiction in a gripping tale of high-stakes treachery. Told against the background of the amazing Apollo space program — this story of Cold War tensions, dark secrets, and an ego gone over the edge builds to an explosive and satisfying finale."—John Verdon, internationally bestselling author of the Dave Gurney series
"Chris Hadfield's twisty thriller blasts off and turns the Cold War hot, as superpower conflict erupts in the cramped confines of the Apollo module. America's final moon mission confronts even greater challenges: an armed Soviet orbiter, an aggressive moon rover, and a cosmonaut determined to draw a line in the regolith. Old-school tech is the background for machine guns in space and knife fights on the moon -- and it's all entirely plausible, written by someone who could have been there."
 —Mike Cooper, author of The Downside