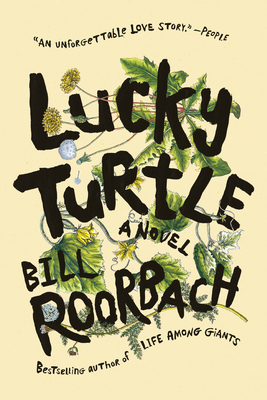 Lucky Turtle
Publication Date:
May 2nd, 2023
Publisher:
Algonquin Books
Usually Ships in 1 to 5 Days
Description
"No one writes about love or the American wilderness like Bill Roorbach . . . Thrilling." —Lily King, author of Writers & Lovers and Five Tuesdays in Winter
 
A New York Times Book Review Editor's Choice   
 
When sixteen-year-old Cindra Zoeller is sent to a reform camp in Montana after being involved in an armed robbery, she is thrust into a world of mountains and cowboys and miscreants. At Camp Challenge, she becomes transfixed by Lucky, a camp employee of mysterious origin—an origin of constant speculation—and the chemistry between them is instant, and profound. The pair escape together into the wilderness to create an idyllic life far from the reach of the law, living off their resounding love, Lucky's vast knowledge of the wilderness, and a little help from some friends. But they can run from the outside world for only so long, and the consequences of their naïve fantasy of a future together—and circumstances shaped by skin color—will keep them apart for decades. Will Cindra ever see her soulmate again? Or are the dark whispers true?
 
A page-turner full of vivid characters, delicious suspense, and ultimately joy, Lucky Turtle is a bighearted, deeply engrossing love story from one of our most entertaining and perceptive writers.
Praise for Lucky Turtle
"An unforgettable love story."—People
"Fans of Roorbach's prolific work will appreciate his signature lyricism and sense of place, his sweeping narrative, humor and romance. New readers are walking into the hands of a skilled storyteller who's not afraid to take on a big, messy tale of love, privilege and abuse."—New York Times Book Review
"Nobody else could have written this gorgeous novel, full to the brim with tragedy but also fun, as well as the best kind of romance —embracing so much more than the couple at its center. Cindra is an impeccably loyal and honest narrator, our perfect guide through the wilds of Montana. Lucky Turtle is an ode and a love letter to our wounded, imperfect, and oh-so-beautiful world."—Nina de Gramont, author of The Christie Affair
"No one writes about love or the American wilderness like Bill Roorbach. A thrilling, blistering tale of young love and old hate and the steady endurance of both."—Lily King, author of Five Tuesdays in Winter
"Look out: Roorbach has created the sexiest man seen in literature in a good long time . . . An epic love story . . . No greater reading pleasure to be had anywhere."—Kirkus Reviews, starred review
​"Roorbach is a consummate raconteur skilled in breathing life into his characters. His prose is well-suited to the Montana landscape, capacious yet created with poetic economy, evoking the splendor of nature in language that sparkles like crystal clear mountain water . . . Roorbach's understated, luminescent novel beautifully evokes an idyllic world created when two hearts are braided together."—Booklist, starred review
"An engrossing novel with standout characters."—Library Journal, starred review
"Two great love affairs—one between characters, the other with the wilds of Montana as its original inhabitants knew it—surge through this engaging, audacious novel. Every page hums with life and energy."—Andrea Barrett, author of The Voyage of the Narwhal and Archangel
"At once an adventure, a love story, and a profound meditation on the grandeur of the natural world, Lucky Turtle is a novel so full of beauty and heart and pathos that you won't want it to end, a book that hums with grace, and sings with passion. Roorbach is a national treasure."—Jonathan Evison, author of Small World
"Roorbach delivers a most electric pulse into the hardscrabble dirt and veins in this novel's memorable backdrop of ancient Montana mountains and waters. Lucky Turtle gives us a world where adventure and landscape combine tenderly for a most unforgettable read."—Aimee Nezhukumatathil, author of World of Wonders
"A story of love and heartbreak in a world of breathtaking splendor and deep injustice, Bill Roorbach's Lucky Turtle is a novel of perseverance, brimming with entertaining dialogue and rich details of the flora and fauna of the West."—Shelf Awareness
"A new kind of romance… [and] a love letter to the beauty and power of Montana… The tensions don't simmer here but roil, making for an emotionally challenging, worthwhile and truly special read."—BookReporter
"An unforgettable love story set starkly against Montana Wilderness."—Largehearted Boy, starred review