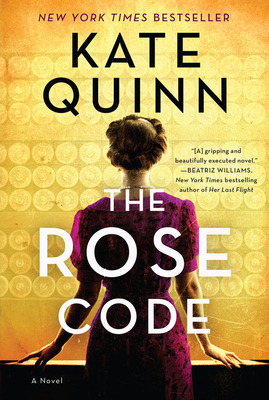 The Rose Code: A Novel
Publication Date:
March 9th, 2021
Publisher:
William Morrow Paperbacks
Usually Ships in 1 to 5 Days
While many WWII stories have been told in triplicate, Kate Quinn presents a new angle on the Bletchley Park/code breaker part of the war. She gives us three magnificent main characters who must navigate the turbulent waters not only of the war, but of a new puzzle to solve shortly before the royal wedding of Princess Elizabeth (Queen Elizabeth II) and Prince Philip.
March 2021 Indie Next List
Description
"The reigning queen of historical fiction" --  Fiona Davis, New York Times bestselling author of The Lions of Fifth Avenue  
The New York Times and USA Today bestselling author of The Huntress and The Alice Network returns with another heart-stopping World War II story of three female code breakers at Bletchley Park and the spy they must root out after the war is over.
1940. As England prepares to fight the Nazis, three very different women answer the call to mysterious country estate Bletchley Park, where the best minds in Britain train to break German military codes. Vivacious debutante Osla is the girl who has everything—beauty, wealth, and the dashing Prince Philip of Greece sending her roses—but she burns to prove herself as more than a society girl, and puts her fluent German to use as a translator of decoded enemy secrets. Imperious self-made Mab, product of east-end London poverty, works the legendary codebreaking machines as she conceals old wounds and looks for a socially advantageous husband. Both Osla and Mab are quick to see the potential in local village spinster Beth, whose shyness conceals a brilliant facility with puzzles, and soon Beth spreads her wings as one of the Park's few female cryptanalysts. But war, loss, and the impossible pressure of secrecy will tear the three apart.
1947. As the royal wedding of Princess Elizabeth and Prince Philip whips post-war Britain into a fever, three friends-turned-enemies are reunited by a mysterious encrypted letter--the key to which lies buried in the long-ago betrayal that destroyed their friendship and left one of them confined to an asylum. A mysterious traitor has emerged from the shadows of their Bletchley Park past, and now Osla, Mab, and Beth must resurrect their old alliance and crack one last code together. But each petal they remove from the rose code brings danger--and their true enemy--closer...
Praise for The Rose Code: A Novel
"The hidden history of Bletchley Park has been waiting for a master storyteller like Kate Quinn to bring it to life. The Rose Code effortlessly evokes the frantic, nervy, exuberant world of the Enigma codebreakers through the eyes of three extraordinary women who work in tireless secrecy to defeat the Nazis. Quinn's meticulous research and impeccable characterization shine through this gripping and beautifully executed novel." — Beatriz Williams, New York Times bestselling author of Her Last Flight
"The Rose Code is everything you love about an unputdownable novel and more. In her signature fashion, Kate Quinn expertly and vividly breaks wide open the secret world of Bletchley Park's remarkable codebreakers. An unforgettable war story to be sure, but also a tale of friendship, fortitude, and forgiveness. Utterly satisfying." — Susan Meissner, bestselling author of The Nature of Fragile Things
"A knockout of a story, written by the reigning queen of historical fiction. Quinn's trio of heroines practically leap off the page in this stunning novel, which melds spy-hunting with love stories that will stir your soul. A book for the ages." —  Fiona Davis, New York Times bestselling author of The Lions of Fifth Avenue   
"Kate Quinn does it again! This rollicking tale of espionage and female solidarity is a tour de force that will make you laugh and cry at the same time. For the quirky, complicated and unforgettable women of Bletchley Park, beneath the lipstick and lace lurks a gritty life of danger and daring. From frantic efforts to decode Nazi messages to the consequences of treason and secret-keeping in the post-war jubilation, there's never a dull moment. The Rose Code is pure genius and Quinn's best... so far."
— Stephanie Dray, New York Times Bestselling author of The Women of Chateau Lafayette
"Quinn (The Huntress) returns to WWII in this immersive saga. [Her] page-turning narrative is enhanced by her richly drawn characters and by the fascinating code-breaking techniques, which come alive via Quinn's extensive historical detail. This does not disappoint." — Publishers Weekly (starred review)
"Quinn writes with an immediacy and level of detail that keeps readers on the edge of their seats. Her latest is a deft blend of romance, mystery, and suspense that will appeal to lovers of those genres, and to her many fans." — Library Journal (starred review)
"By turns heartbreaking, fascinating, and mysterious, Quinn's latest historical novel is likely to turn up on 2021 best lists." — Booklist (starred review)
Readers: Prepare to be swept away by The Rose Code. A richly deserved tribute to the WWII codebreakers of Bletchley Park, Kate Quinn's latest novel is a tour de force. Exhaustive research, vibrant characters, and pulse-pounding suspense combine in a riveting tale destined to be a book-club favorite. I absolutely loved it." — Kristina McMorris, New York Times bestselling author of Sold on a Monday  
"The Rose Code is a firecracker of a novel! By illuminating the top-secret work done by codebreakers at England's Bletchley's Park, Kate Quinn has created a fresh take on World War II and created three unforgettable heroines who use their intelligence, grit, and tenacity to help save the world from Nazis. Clear out your calendar, because once you start reading this one, you won't put it down." — Elise Hooper, author of Fast Girls
"An intricate play of love, loss, betrayal and redemption, Kate Quinn's novel is every bit as complex and fascinating as the codes being broken at Bletchley Park… Impossibly gripping from start to finish, The Rose Code is a cracking good read!" — Celia Rees, author of Miss Graham's Cold War Cookbook  
"If historical fiction featuring female heroines with a little spy drama mixed in sounds like your cup of tea, add Quinn's latest novel to your list." — CNN.com
"Twisty and evocative." — Popsugar