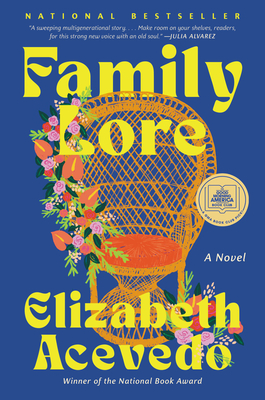 Family Lore: A Good Morning America Book Club Pick
Publication Date:
August 1st, 2023
Usually Ships in 1 to 5 Days
Reminiscent of Isabel Allende, Julia Alvarez, and Elena Ferrante,Family Loreis a gorgeous multigenerational saga that follows the powerful, magical women in a Dominican-American family over the course of three days, but spans lifetimes.
August 2023 Indie Next List
Description
NATIONAL BESTSELLER
A GOOD MORNING AMERICA BOOK CLUB PICK!
Shortlisted for The Center for Fiction 2023 First Novel Prize
From National Book Award-winning author Elizabeth Acevedo comes the story of one Dominican American family told through the voices of its women
Flor has a gift: she can predict, to the day, when someone will die. So when she decides she wants a living wake—a party to bring her family and community together to celebrate the long life she's led—her sisters are surprised. Has Flor foreseen her own death, or someone else's? Does she have other motives? She refuses to tell her sisters, Matilde, Pastora, and Camila.
But Flor isn't the only person with secrets: her sisters are hiding things, too. And the next generation, cousins Ona and Yadi, face tumult of their own.
Spanning the three days prior to the wake, Family Lore traces the lives of each of the Marte women, weaving together past and present, Santo Domingo and New York City. Told with Elizabeth Acevedo's inimitable and incandescent voice, this is an indelible portrait of sisters and cousins, aunts and nieces—one family's journey through their history, helping them better navigate all that is to come.
A Best Book of 2023 from: Washington Post * Good Housekeeping * Real Simple * Harper's Bazaar * Elle * Time * NPR
Praise for Family Lore: A Good Morning America Book Club Pick
"The Marte sisters—Matilde, Flor, Pastora, and Camila—live at the center of Elizabeth Acevedo's prismatic new novel, Family Lore, a labyrinthine tale of sisterhood and the chaos of love. . . . The depth, grace and nuance Acevedo gives her characters is palpable; her love for these women comes through with arresting clarity. . . . Pearls of magic and wisdom, hard but not hardened, the story of the Marte sisters is a treasure to behold." — Rebecca Carroll, New York Times Book Review 
"Enchanting….With grace and compassion, Family Lore glides through the sometimes riotous or hard-won love of immigrant families, their unquestioned sacrifices, and what is silenced between siblings, mothers and daughters….a novel where women rule front and center, navigating their pleasure and desires beyond the borderlands of male dominion, mostly without shame and often with spectacular abandon." — Patricia Engel, Washington Post
"[Elizabeth Acevedo's] most impressive emotional excavation yet, a decade-spanning epic that sees Acevedo deftly stretching out into the new space afforded by a shift in audience. Vividly rendered and deliciously complex, Family Lore will stick with you long after you leave Flor's table." — Atlantic
"[A] vibrant family saga . . . . Acevedo wields her own sort of magic in her first novel for adults, deftly blending comedy and sorrow. Family Lore is an absorbing, entertaining portrait of a Dominican American woman whose exceptional relationship with death keeps her family — and readers — guessing." — Star Tribune
"Acevedo's treatment of magic as an everyday possibility is compelling, but there is also magic in the wonder, surprise, frustrations, and joys the characters experience in their relationships with one another. . . . [Family Lore] is also, like all her novels, the project of a poet: her obsession with imagery, interiority, and making every word count is what makes her descriptions and dialogue sing; her characters think and speak in voices that feel distinct and alive." — Nicole Chung, TIME
"Acevedo uses an innovative storytelling structure to mirror oral traditions. It makes for a wild narrative, but the real journey is interior — a quest to reclaim the body and the pleasure that comes with it, and to answer the question: Just how far will you go to be known, and once you arrive, what will you say?" — LA Times
"An exuberant, polyphonic story of one family's reckoning with their past…Acevedo's background in spoken-word poetry shines through in the energy and lyricism of her prose…But the novel's greatest triumph is in the warmth of her portrayal of these women, their strength and stubbornness, and the inseparability of love and grief." — Guardian 
"Acevedo paints a multifaceted portrait of Dominican American women coming to terms with mortality, navigating womanhood, past loves and self-love in Family Lore." — USA Today
"[A] vibrant family chronicle." — Vanity Fair
"Family Lore is a deeply Dominican book, full of raw emotional power. It is at once intimate and epic, one of the most resonant representations of a family and world like my own that I've ever read. There is so much to love about this wise, funny and original novel—and it's a singular contribution to Dominican diasporic letters." — Naima Coster, New York Times bestselling author of What's Mine and Yours
"Elizabeth Acevedo's Family Lore is a sweeping multi-generational story of a family of women whose special powers have helped them overcome personal, familial, and historical challenges that both bond them together and at times threaten to pull them apart but ultimately navigate them into the full abrazos of love. Acevedo is in full command of her special powers as a storyteller of compassionate, capacious and lyrical imagination. Make room on your shelves, readers, for this strong new voice with an old soul and a deep well of understanding of who we wonderfully are for the brief time we are beings." — Julia Alvarez, author of Afterlife and How the García Girls Lost Their Accents
"Flor is throwing herself a wake and reminding us that 'even a long life is too short.' So while we are here 'let's eat, and dance, and be alive.' Acevedo has written unforgettable characters who breathe new life to how we grieve, age, take care of each other. Family Lore is a big-hearted novel, a wonderful debut!" — Angie Cruz, author of How Not to Drown in a Glass of Water and Dominicana
"Only Elizabeth Acevedo could make an epic feel so intimate, so perfectly crafted and tightly drawn. FAMILY LORE is a devastating exploration of the liveliness of the Marte women. No writer on earth transforms a page into a home with distinct emotional chambers like Acevedo, and her she does it with language that is equally lush and lacerating. This is how stories should be made." — Kiese Laymon, author of Long Division and Heavy
"There's deep magic not only among the close-knit Marte sisters and their offspring, but on every page of Family Lore. This book is at turns tender, intense, sensual, and hilarious—I couldn't get enough. Elizabeth Acevedo's precise, intricate prose mesmerizes, surprises, and delights. This is a family saga to be read with your whole heart and soul." — Deesha Philyaw, author of The Secret Lives of Church Ladies
"With Family Lore, Elizabeth Acevedo has made the transition into the adult world look easy. The true gift of a stunningly talented writer." — Jacqueline Woodson 
"Acevedo is a master of time. Family Lore is full of beautiful prose, even-handed magic, and all the pains and triumphs of intergenerational bonds. Tender, moving, and altogether lovely. Not one word is wasted here." — Kiley Reid, author of Such a Fun Age
"There is potent magic in these pages, passed down through this lineage of powerful sisters who have captured my heart. How does Acevedo do it? Reading Family Lore is like an embrace, and I am filled with nostalgia for a family I have never had and could never have imagined." — Ruth Ozeki, author of The Book of Form and Emptiness
"Acevedo expertly maneuvers through the complex and singular stories of each of these women, and all that unites them. It was a joy to experience each character's expressive and gripping story, to acknowledge their truths; and to recognize some of the women in the lives of women around me. A remarkable accomplishment." — Abi Daré, author of The Girl with the Louding Voice
"Elizabeth Acevedo tackles some of life's biggest questions with the vivacity and empathy readers know from her young adult novels." — Harper's Bazaar
"Family history is always best when it's told through the eyes of a woman. In Family Lore, Elizabeth Acevedo does exactly that—tracing multiple generations of women in one Dominican family as they uncover what truly binds them all together." — Elle
"Enchanting…Family Lore beautifully explore[s] themes of sister- and motherhood, family secrets, and the power of defining your life's purpose and meaning." — Bustle
"[A] lush and lyrical Dominican American drama." — NPR.org
"A juicy novel of sisterhood, resilience, and magic. . . . Acevedo's novel starring a spunky narrator will enchant both fans and new readers." — Booklist
"A powerful multigenerational story that travels from Santo Domingo to New York City and spans decades. . . . This is a big hearted tale that seeks to answer, or at least make sense of, our deepest fears." — Bust
"Acevedo is brilliant at portraying the women's love and loyalty for one another. The author's fans will eat this up." — Publishers Weekly
"National Book Award winner Elizabeth Acevedo has written her first novel for adults, and we're here for it…humorous and heartfelt." — Real Simple
"Family Lore is a compelling story about a family's past, present and future and the unbreakable bonds of women." — PureWow
"[Family Lore] has no shortage of family drama, secrets, and chisme to keep you entertained in its entirety." — Elle.com
"This novel takes us through the rich history and frenetic present of the Marte family and between Santo Domingo and New York City, culminating in a celebration of community, sisterhood and love that will have you wiping away happy tears." — Good Housekeeping
"Whether you come for the chisme, the magic or the desire to read something real, you'll leave having devoured a lyrical family saga that touches so many real, tender parts of what it means to be human." — Christina Cala, senior producer, Code Switch