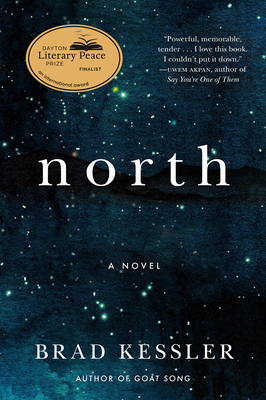 North: A Novel
Publication Date:
October 25th, 2022
Publisher:
The Overlook Press
Usually Ships in 1 to 5 Days
Description
A powerfully moving novel about the intertwined lives of a Vermont monk, a Somali refugee, and an Afghan war veteran by Brad Kessler, the award-winning author of the acclaimed memoir Goat Song.
 
Finalist for the Dayton Literary Peace Prize
Finalist for the Vermont Book Award
 
As a late spring blizzard brews, Brother Christopher, a cloistered monk at Blue Mountain Monastery in Vermont, rushes to tend to his Ida Red and Northern Spy apple trees in advance of the unseasonal snowstorm. When the storm lands a young Somali refugee named Sahro Abdi Muse at the monastery, Christopher is pulled back into the world as his life intersects with Sahro's and that of an Afghan war veteran in surprising and revealing ways.
 
North traces the epic journey of Sahro from her home in Somalia to South America, along the migrant route through Central America and Mexico, to New York City, and finally, her dangerous attempt to continue north to safety in Canada. It also compellingly traces the inner journeys of Brother Christopher, questioning his future in a world where the monastery way of life is waning, and of veteran Teddy Fletcher, seeking a way to make peace with his past.
 
Written in Brad Kessler's sharp, beautiful, and observant prose, and grounded in the author's own corner of Vermont, where there is a Carthusian monastery, a vibrant community of Somali asylum seekers, and a hole left after a disproportionate number of Vermont soldiers were killed in Afghanistan, North gives voice to these invisible communities, delivering a story of human connection in a time of displacement.
 
Praise for North: A Novel
"Compelling and compassionate...Taut with suspense and eloquent insights, North is a novel of extraordinary scope."
— Foreword Reviews, *starred* review
"This is a powerful novel that confronts us with how we treat refugees and if we are doing enough to support them ... This is a novel you will think about long after you have finished reading it."
 
— Albany Times Union
"In Brad Kessler's fine new novel, North...the seemingly disparate lives that converge on a snowy Vermont night—Sahro, a Somali refugee seeking asylum, and Father Christopher, the abbot of a mountain monastery—are woven together with intricate threads of home, flight, sanctuary, danger, hope, faith, storytelling and much more."
— Shelf Awareness
"North is a powerful, memorable, tender meditation on the fate of immigrants worldwide. My heart skipped many times as I followed the hopes of Sahro Abdi Muse, the Somali protagonist, and the intrigue at the Vermont monastery where a religious community struggles to protect her from dark forces. I love this book. I couldn't put it down."  
 
— Uwem Akpan
"A beautiful and moving tale, Kessler's North is tender, dazzling, and wise."
— Annie Dillard
"Kessler vividly renders the northern New England setting, a fitting backdrop to this emotive rendering of Sahro's experience coupled with two characters at odds with their pasts. The characters' moving stories coalesce into yet another winning effort from a consistently impressive writer."
 
— Publishers Weekly
"North is a brave and ambitious novel . . . an intimate yet globe-spanning book that brilliantly combines the personal with the political. Kessler's sensitivity to both the exterior elemental world of northern Vermont and the interior world of our hearts, souls, and minds makes for that rare thing: a book that is as transporting as it is profound."
 
— Peter Cameron
"Kessler's suspenseful and compassionate novel North is the emotional compass we clutch as we wander through the inhospitable landscape of our own preconceptions and mental boundaries."
 
— Nora Krug
"A beautifully told, important, and urgent story, and we couldn't put it down."
— Literary North
"Brad Kessler has an unusual empathy for stories. Original and deliberate in approach, he leans into the heart of difficulty and lets the sheer human dignity of his characters, no matter what duress they are under, lead the story to a hard-won but exquisite grace. This book has a distinctive tenor and a voice full of hope."
 
— Chris Abani
"Kessler excels at showing how faith roots itself organically in a person's experience of the world...the flashbacks abound in evocative and musical prose...Kessler suggests we've reached a point in human history when we sorely need a reminder that we're all in this together."
 
— Seven Days
"A beautiful, soulful book. A great read!"
— Lynn Nottage, Pulitzer Prize-winning playwright of Intimate Apparel and Sweat