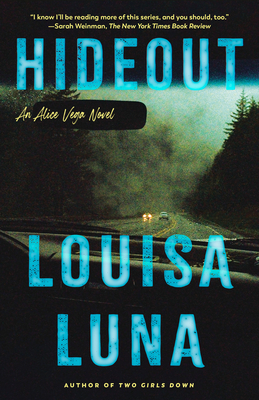 Hideout: An Alice Vega Novel (An Edgard Award Winner)
Publication Date:
February 7th, 2023
Publisher:
Vintage Crime/Black Lizard
Usually Ships in 1 to 5 Days
Description
EDGAR AWARD WINNER • In this powerful new thriller, Alice Vega and Max Caplan return, uncovering a network of white supremacists in their search for a long-lost counter-culture hero.
"Alice Vega is sensational—I want to see lots more of her." —Lee Child, #1 New York Times best-selling author

Alice Vega has made a career of finding the missing and vulnerable against a ticking clock, but she's never had a case like that of Zeb Williams, missing for thirty years. It was 1984, and the big Cal-Stanford football game was tied with seconds left on the clock. Zeb Williams grabbed the ball and ran the wrong way, through the marching band, off the field, and out of the stadium. He disappeared into legend, replete with Elvis-like sightings and a cult following.
 
Zeb's cold trail leads Vega to southern Oregon, where she discovers an anxious community living under siege by a local hate group called the Liberty Boys. As Vega starts digging into the past, the mystery around Zeb's disappearance grows deeper, and the reach of the Liberty Boys grows more disturbing. Everyone has something to hide, and no one can cut to the truth like Alice Vega. But this time, her partner Max Caplan has his own problems at home, and the trouble Vega finds might be too much for her to handle.
 
Louisa Luna understands suspense, tension, and character like only the best writers in crime fiction do—and she may well write the best interrogations in the genre. Hideout is pure adrenaline and Luna's most intimate thriller yet, a classic cold case wrapped in a timely confrontation with a terrifyingly real network of white supremacists and homegrown terrorists.
Praise for Hideout: An Alice Vega Novel (An Edgard Award Winner)
EDGAR AWARD WINNER

"Luna takes the usual private eye tropes and imbues them with added resonance. Vega is an excellent investigator who doesn't bounce back right away from physical harm, and her relationship with Cap earns its complexity. I know I'll be reading more of this series, and you should, too." –Sarah Weinman, The New York Times Book Review
"Exhilarating. . .Vega's PI partner, Max Caplan, lends support, but it is the no-nonsense Vega who carries the day. Readers will want to see a lot more of this kick-butt hero." –Publishers Weekly
"Vega. . . returns with a fury that singes the corners off the pages. This is the third Alice Vega novel (after The Janes, 2020), and they just keep getting better, thanks to brilliant characterizations and lots of surprises. Jack Reacher fans will adore her. The vengeful Alice is as intriguing as the bride in Kill Bill. Viva la Vega!" –Booklist starred review
The third novel in the Alice Vega series is another thrilling ride from the very start to the end. . .Fans will eat this book up. –Red Carpet Crash
"After two well-received outings (e.g., The Janes), Alice Vega returns to demonstrate her talent for uncovering seemingly unrecoverable truths." —Library Journal