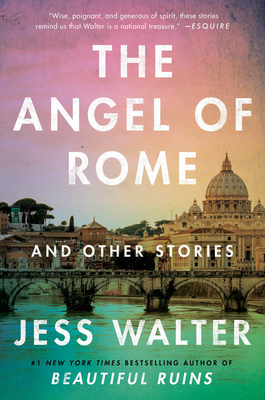 The Angel of Rome: And Other Stories
Publication Date:
June 27th, 2023
Publisher:
Harper Perennial
Usually Ships in 1 to 5 Days
The first sentences in this astonishing collection dare you not to read further. Walter exposes his characters for what they are in subtle and startling ways. The stories are profound, hilarious, and suspenseful, leaving us wisdom.
July 2022 Indie Next List
Description
From the #1 New York Times bestselling author of Beautiful Ruins and The Cold Millions comes a stunning collection about those moments when everything changes—for the better, for the worse, for the outrageous—as a diverse cast of characters bounces from Italy to Idaho, questioning their roles in life and finding inspiration in the unlikeliest places.
We all live like we're famous now, curating our social media presences, performing our identities, withholding those parts of ourselves we don't want others to see. In this riveting collection of stories from acclaimed author Jess Walter, a teenage girl tries to live up to the image of her beautiful, missing mother. An elderly couple confronts the fiction writer eavesdropping on their conversation. A son must repeatedly come out to his senile father while looking for a place to care for the old man. A famous actor in recovery has a one-night stand with the world's most surprising film critic. And in the romantic title story, a shy twenty-one-year-old studying Latin in Rome during "the year of my reinvention" finds himself face-to-face with the Italian actress of his adolescent dreams.
Funny, poignant, and redemptive, this collection of short fiction offers a dazzling range of voices, backdrops, and situations. With his signature wit and bighearted approach to the darkest parts of humanity, Walter tackles the modern condition with a timeless touch, once again "solidifying his place in the contemporary canon as one of our most gifted builders of fictional worlds" (Esquire).
Praise for The Angel of Rome: And Other Stories
"A glorious addition to the oeuvre. . . . So. Damn. Funny. . . . Prepare for delight." — Kirkus Reviews (starred review)
"One of our finest practitioners of the short story form returns with an ebullient second collection. Fans of Walter's seminal Beautiful Ruins will fall hard for the swoony title story... Wise, poignant, and generous of spirit, these stories remind us that Walter is a national treasure."  — Esquire ("Best Books of Summer 2022")
"Even great short story collections normally contain a miss or two in the lot. But not this one. Every single offering in Jess Walter's newest collection is a poignant, heart-filled gem. His subjects range from Italian actresses to besotted teachers, surprising one-night stands to overheard diner conversations. He delights equally whether bringing to life a minor moment or an epic love story." — Daily Beast
"Empathetic yet unsentimental [and] intensely affecting fiction...[Walter] manages to render multiple generations of emotionally complex lives in just a handful of pages. . . . The stories in The Angel of Rome are largehearted and wonderfully inventive. They can be savored at the dentist's office, or anywhere, without an eye on the clock."  — Hilma Wolitzer, New York Times Book Review
"Reading Walter's perceptive collection (after The Cold Millions) is like sitting next to the guy at a dinner party who has something hilarious to say about everyone and knows all their secrets." — Publishers Weekly
"A transfixing cast of characters navigating fame, performance, identity, aging, and romance."  — Elle
"Twelve sparkling, neatly varied pieces that range from Europe to the small towns of rural Washington State, and from the 1970s to the present. The rambunctious title story shows Walter at his best … Walter also reveals a gift for darker, more surreal humor … (and) compassion, wit, and general charm."  — Booklist
"The beloved "Beautiful Ruins" author is back with a collection of upbeat short stories. The title story recalls his hit novel with its Italian setting, beautiful movie star character and goofy male protagonist. Even in stories about dealing with troubles like cancer, a parent with Alzheimer's, homophobia and climate change, Walter finds humor and warmth."  — Newsday
"Walter's new collection of stories gives us characters as diverse as an actor in recovery, an exchange student in Rome, a teenage girl grappling with the loss of her mother, and a young gay man struggling to connect with his elderly father. Walter is sure to bring his poignant touch to these stories as he did with his previous books, Beautiful Ruins and The Cold Millions." — Lit Hub
"The Best Short Story Writer in 21st Century America? … I was unprepared to fall headlong in love with this writer … What makes Jess Walter so good? For starters, there's the way he gets deep into a diverse array of heads and hearts … In the end, it is (his) fully imagined citizenship in our world that is his primary power. Call it a vision, a prowess, or an instinct, but whatever the word, it cannot be taught in grad school. — Arts Fuse
"If it were possible to sum up Jess Walter's The Angel of Rome and Other Stories in a word, it would be humane. In the 12 wide-ranging, consistently empathetic stories that compose his second collection, he creates a memorable assortment of characters who bump up against life's inevitable obstacles, large and small, then stumble through or surmount them. . . . The tales in The Angel of Rome aren't easily categorized, but each one provides a refreshingly honest glimpse into what it means to be alive." — BookPage (Starred Review)
"Walter's intriguing and witty collection of short fiction stories shines a light on the lives of a diverse range of characters experiencing existential crises while searching for inspiration. Despite the fact that The Angel of Rome: And Other Stories is fictional, it's unequivocally relatable and insightful, perhaps even encouraging the reader to do a little bit of their own introspective thinking." — Town & Country
"He's at the very top of his game. . . . The stories Walter's characters create come from pain and joy and the pasts they can't forget. The result is a powerful collection, insightful and frequently quite funny, which stuns in all sorts of unexpected ways."  —  Michael Schaub, Alta
"Reading Jess Walter's second collection of short stories, one is shepherded through sometimes gritty terrain, but with the constant assurance of finding light and unexpected laughs. He mines gold from the profound perspectives of his unique characters."  — Christian Science Monitor
"(Jess Walter's) newest short story collection, The Angel of Rome and Other Stories, is the mark of a profoundly talented writer who can capture the internal lives of a 20-something barista living in Bend, Oregon, an older man glaring at kids from his window in Spokane and an Italian actress reflecting on how she never got her dream role in equally persuasive and poignant ways." — Seattle Times