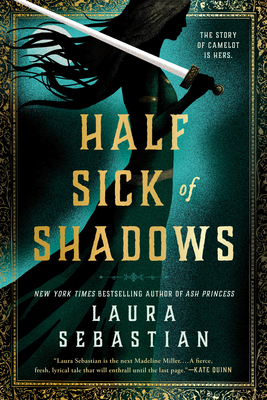 Half Sick of Shadows
Publication Date:
June 21st, 2022
Usually Ships in 1 to 5 Days
Description
"Laura Sebastian is the next Madeline Miller. . . . a fierce, fresh, lyrical tale that will enthrall until the last page."--Kate Quinn, New York Times bestselling author of The Huntress
A Popsugar Best Summer Read of 2021
A Bibliolifestyle Most Anticipated Summer 2021 Sci-fi and Fantasy Book

"Magical, haunting, unique--I haven't been so excited about an Arthur book since I read The Once and Future King ."--Tamora Pierce, #1 New York Times bestselling author

The Lady of Shalott reclaims her story in this bold feminist reimagining of the Arthurian myth from the New York Times bestselling author of Ash Princess.

Everyone knows the legend. Of Arthur, destined to be a king. Of the beautiful Guinevere, who will betray him with his most loyal knight, Lancelot. Of the bitter sorceress, Morgana, who will turn against them all. But Elaine alone carries the burden of knowing what is to come--for Elaine of Shalott is cursed to see the future.
On the mystical isle of Avalon, Elaine runs free and learns of the ancient prophecies surrounding her and her friends--countless possibilities, almost all of them tragic.
When their future comes to claim them, Elaine, Guinevere, Lancelot, and Morgana accompany Arthur to take his throne in stifling Camelot, where magic is outlawed, the rules of society chain them, and enemies are everywhere. Yet the most dangerous threats may come from within their own circle.
As visions are fulfilled and an inevitable fate closes in, Elaine must decide how far she will go to change destiny--and what she is willing to sacrifice along the way.
Praise for Half Sick of Shadows
"Laura Sebastian is the next Madeline Miller. In Half Sick of Shadows, she frames the famous legend of King Arthur through the eyes of seer Elaine, the tragic Lily Maid who flowers into much more than a passive doomed oracle. Leading the women of Camelot into taking control of a legend long dominated by knights and kings, Elaine weaves past truths and possible futures into a fierce, fresh, lyrical tale that will enthrall until the last page."--Kate Quinn, New York Times bestselling author of The Huntress
"Magical, haunting, unique--Sebastian is a splendid new figure on the adult scene! This is something special, readable, and real, magic and all. I haven't been so excited about an Arthur book since I read The Once and Future King (I was 11)."--Tamora Pierce, #1 New York Times bestselling author
"Half Sick of Shadows is a powerful, brilliant retelling of the Lady of Shalott. This is a book I wish I had written."--Anne Bishop, New York Times bestselling author of The Queen's Weapons

"This bold reimagining of the Arthurian story, told from the viewpoint of seer Elaine, gives the women of the legend a new depth and agency. Half Sick of Shadows is rich in magic and full of surprises."--Juliet Marillier, national bestselling author of The Harp of Kings
"This captivating and moving tale—centered around powerful Morgana, impulsive Guinevere, and troubled Elaine—explores how friendship both binds and breaks under pressure, especially once these three women start to question why they must sacrifice themselves to fulfill Arthur's destiny."--Booklist (starred review)
"Sebastian's adult debut is filled with historical leanings with a feminist twist. Themes of friendship, fate, and morally gray decisions made for greater good are at the forefront of this Arthurian retelling."--Library Journal (starred review)
"A thoughtful, crisp take that brings just the right amount of newness to the timeless legends readers know and love."--Kirkus