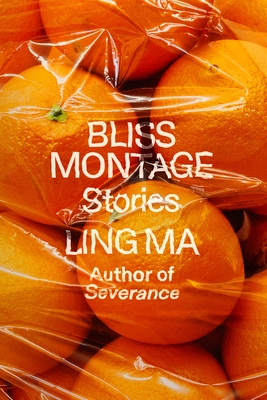 Bliss Montage: Stories
Publication Date:
September 13th, 2022
Publisher:
Farrar, Straus and Giroux
Usually Ships in 1 to 5 Days
A stunning, haunting collection. In these stories, the mundane meets the fantastic in a web of intrigue, walking the line between thriller and horror in a genre of Ma's own. A must read for fans of dystopian sci-fi and magical realism.
September 2022 Indie Next List
Description
A National Indie Bestseller
Winner of the National Book Critics Circle Award, the Story Prize, and a Windham-Campbell Literature Prize
A Best Book of the Year at The New York Times, The New Yorker, Vogue, Houston Chronicle, Roxane Gay's The Audacity, Mashable, Polygon, Kirkus Reviews, and Library Journal
A New York Times Book Review Editor's Choice
"Uncanny and haunting . . . Genius." —Michele Filgate, The Washington Post
"Dazzling." —Maureen Corrigan, NPR's Fresh Air
What happens when fantasy tears the screen of the everyday to wake us up? Could that waking be our end?
In Bliss Montage, Ling Ma brings us eight wildly different tales of people making their way through the madness and reality of our collective delusions: love and loneliness, connection and possession, friendship, motherhood, the idea of home. A woman lives in a house with all her ex-boyfriends. A toxic friendship grows up around a drug that makes you invisible. An ancient ritual might heal you of anything—if you bury yourself alive.
These and other scenarios investigate the ways that the outlandish and the ordinary are shockingly, deceptively, heartbreakingly alike.
Praise for Bliss Montage: Stories
Named a Must Read by The New York Times, TIME, Vulture, The Los Angeles Times, The Chicago Tribune, The Philadelphia Inquirer, Esquire, Nylon, Bustle, Buzzfeed, Gothamist, Associated Press, Fortune, Good Housekeeping, The Chicago Review of Books, Literary Hub, The Millions, Publishers Weekly, Book Riot, Pop Sugar, Polygon, Tordotcom, and Nuvo
"Ma's stories stay with you . . . Evidence of a gifted writer curious about the limits of theoretical possibility."
—Lovia Gyarkye, The New York Times Book Review
"Weird and wonderful, surreal and subversive . . . Ma is well on her way to a landmark career."
—Adrienne Westenfeld, Esquire
"Remarkable . . . Bliss Montage delivers on the white-hot promise of [Ma's] 2018 breakout."
—Christopher Borrelli, The Chicago Tribune
"Surreal . . . Powerhouse [stories] so absorbing that you'll pray Ma spins them off into future novels."
—Hillary Kelly, Los Angeles Times
"A joy to read . . . Dark and fantastic and very, very true."
—Abby Manzella, The Minneapolis Star Tribune
"Captivating . . . Ma harnesses the pulsating desire and power dynamics present in all relationships, from intimate friendships and haunting romantic entanglements to motherhood and the invisible yet omnipresent ties of ancestors."
—Cady Lang and Angela Haupt, TIME
"Swift, smart . . . As always, Ling Ma's big, weird ideas set the stage for keen emotional insights."
—Patrick Rapa, The Philadelphia Inquirer
"By turns blunt . . . hilarious . . . and insanely clever."
—J. Howard Rosier, Vulture
"Wildly inventive . . . The tension between the familiar and the unfathomable pulses on every page."
—Lauren Mechling, Vogue
"[Bliss Montage] destabilizes easy expectations—around speculative literature, Asian American literature, immigrant literature, trauma literature, and fiction itself—to gratifying effect . . . Disquieting and sometimes delightful."
—Jennifer Schaffer-Goddard, The Nation
"A surreal and unnerving collection of stories that explores the nature of connection and autonomy."
—The New Yorker
"You turn the pages of Bliss Montage . . . and find the world you thought you knew shaken up and rearranged . . . Told with what's become [Ma's] signature sting of wit and satire."
—Scott Simon, NPR
"Each story unspools like a dream sequence privately remembered . . . What's so satisfying about Ma's second act [is] how Bliss Montage picks up the thread left by Severance's coming-of-age arc into these stories of older, hardened women, who've already confronted their pasts over and over, who now find relief—and rebellion—via dissociation."
—Delia Cai, Vanity Fair
"When I finished reading Bliss Montage . . . I wanted to turn back to the first page and read the collection all over again."
—Kathy Chow, Los Angeles Review of Books
"Darkly comic, linguistically sharp, and uniquely harrowing in how it straddles the line between reality and fable."
—J. Howard Rosier, Houston Chronicle
"Strange and unsettling . . . There's a bit of magic realism in Ma's imaginings, a bit of horror and often an emotional distancing."
—Allison Arieff, San Francisco Chronicle
"Ma offers an astute insider-outsider perspective and a sharp eye for detail . . . [Bliss Montage] tweak[s] the everyday to allow us to question the mirages scaffolding our reality."
—Mia Levitin, Financial Times
"Far-out stories . . . each one its own deadpan flight of fancy, sly and strange."
—Leah Greenblatt, Entertainment Weekly
"As outlandish as [it is] delectable."
—Sophia June, Nylon
"Uncanny and powerful . . . Soaring . . . Brilliantly layered."
—Bruna Dantas Lobato, Astra