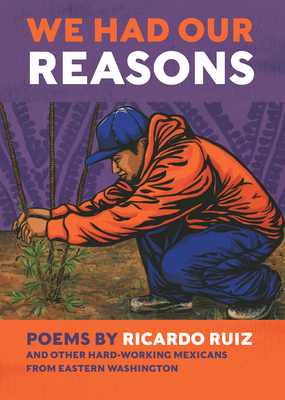 We Had Our Reasons: Poems by Ricardo Ruiz and Other Hardworking Mexicans from Eastern Washington
Publication Date:
May 3rd, 2022
Usually Ships in 1 to 5 Days
Description
We Had Our Reasons is a collection of poems created by Ricardo Ruiz in collaboration with other members of his Mexican farm community in Eastern Washington. The poems, vivid and pointed, guide the reader through the thoughts and struggles that come with the decision to leave one's home in Mexico, and travel to this remote, rural community of the United States. Through the book access is provided to readers; stories that have gone untold for generations are now shared, evoking conversation at home and within the community due to the commonality of experiences. A glimpse into the multi-generational effects of migration is seen through the recounting of the stories of both parents and their children - both documented and undocumented. Ricardo's raw and unapologetic style cuts right into the emotions of each moment divulged in short, punching, powerful pieces.
Biographies and transcripts follow the poems, showcasing the origins of the stories and the people in the book. The book, from Pulley Press, is created with a documentary method, a poetry "pulley." A pulley can assist in shifting and moving objects. It allows a clothesline to spin across its wheel and shuttle clothes into the sun. A "poetry pulley" is the mechanism that a publisher might use to reel in the poems made by rural poets with their friends, neighbors, co-workers, and family, and then glide these poems into the hands of readers.