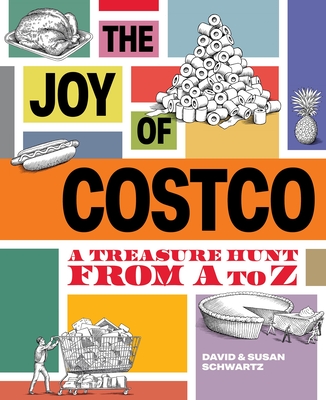 The Joy of Costco: A Treasure Hunt from A to Z
Publication Date:
September 12th, 2023
Usually Ships in 1 to 5 Days
Description
Join David & Susan Schwartz on a whirlwind tour of Costco warehouses around the globe. They are two of Costco's biggest fans, yet live in one of NYC's smallest apartments. Since 2016, they have been to over 225 of Costco's 850+ warehouses, plus gotten behind-the-scenes looks at depots, packaging facilities, vendors, meatpacking plants, and even a pre-opening party.
They have visited at least one warehouse in 46 US states and 13 other countries, including Australia, Canada, China, France, Iceland, Japan, Mexico, New Zealand, Spain, Sweden, South Korea, Taiwan, and the UK. They have also completed a cross-country Costco-themed road trip from Yonkers, New York to Yorba Linda, California, stopping to visit their favorite retailer along the way.
Topics are covered in a whimsical A to Z format, using Q & A to cover topics ranging from Cashews and Chicken to Hot Dogs and Hawaii, targeted to delight the more than 120 million Costco members and over 300,000 dedicated Costco employees. There is a Prologue that describes how the authors came to write the book and an introduction that provides a narrative history of Costco and its predecessor companies.
Sample Fun Facts:
Costco sells more than half of the world's cashews and seven times more hotdogs than all MLB stadiums combined.
When Costco changed its source of salmon from Chile to Norway it impacted the economies of both countries.
Costco sells six million pumpkin pies each year, but only between September and December.