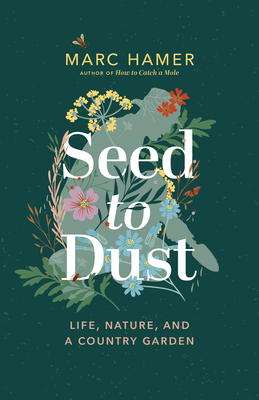 Seed to Dust: Life, Nature, and a Country Garden
Publication Date:
May 4th, 2021
Publisher:
Greystone Books
Usually Ships in 1 to 5 Days
This book has the kind of calm coziness that will leave your mind abuzz with wonder and reflection about the natural world, gardens, and our place in them. Gardener or not, this book has lessons for us all on the kind of patience, quiet, and listening we could use a bit more of in this world.
May 2021 Indie Next List
Description
The perfect gift for the gardener in your life, or for anyone who loved Late Migrations and H is for Hawk
A stunning meditation on gardening and the wisdom of plants, " that rare book that will appeal to nonfiction readers everywhere. . . Candid, tender, thoughtful and absorbing."--Shelf Awareness (STARRED Review)
"With chapters. . . that] shimmer like lantern slides, lit with luminous imagery. . . Seed to Dust is an invitation to read this world as Mr. Hamer does--with a close eye to what changes, and what does not."--The Wall Street Journal
Marc Hamer has nurtured the same 12-acre garden in the Welsh countryside for over two decades. The garden is vast and intricate. It's rarely visited, and only Hamer knows of its secrets. But it's not his garden. It belongs to his wealthy and elegant employer, Miss Cashmere. But the garden does not really belong to her, either. As Hamer writes, "Like a book, a garden belongs to everyone who sees it."
In Seed to Dust, Marc Hamer paints a beautiful portrait of the garden that "belongs to everyone." He describes a year in his life as a country gardener, with each chapter named for the month he's in. As he works, he muses on the unusual folklores of his beloved plants. He observes the creatures who scurry and hide from his blade or rake. And he reflects on his own life: living homeless as a young man, his loving relationship with his wife and children, and--now--feeling the effects of old age on body and mind.
As the seasons change, Hamer also reflects on the changes he has observed in Miss Cashmere's life from afar: the death of her husband and the departure of her children from the stately home where she now lives alone. At the book's end, Hamer's connection to Miss Cashmere changes shape, and new insights into relationships and the beauty and brutality of nature emerge.
Just like all good books and gardens, Seed to Dust is filled with equal parts life and death, beauty and decay, and every reader will find something different to admire.