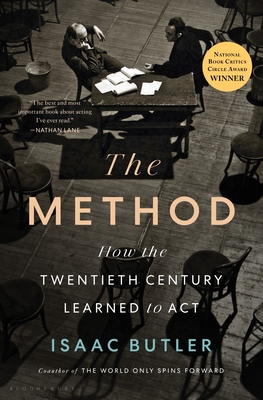 The Method: How the Twentieth Century Learned to Act
Publication Date:
February 1st, 2022
Publisher:
Bloomsbury Publishing
Usually Ships in 1 to 5 Days
Description
National Book Critics Circle Award Winner, Nonfiction
NAMED ONE OF THE BEST BOOKS OF 2022 BY THE NEW YORKER, TIME MAGAZINE, SAN FRANCISCO CHRONICLE, VOX, SALON, LIT HUB, AND VANITY FAIR
"Entertaining and illuminating."--The New Yorker * "Compulsively readable."--New York Times * "Delicious, humane, probing."--Vulture * "The best and most important book about acting I've ever read."--Nathan Lane
The critically acclaimed cultural history of Method acting—an ebullient account of creative discovery and the birth of classic Hollywood.
On stage and screen, we know a great performance when we see it. But how do actors draw from their bodies and minds to turn their selves into art? What is the craft of being an authentic fake? More than a century ago, amid tsarist Russia's crushing repression, one of the most talented actors ever, Konstantin Stanislavski, asked these very questions, reached deep into himself, and emerged with an answer. How his "system" remade itself into the Method and forever transformed American theater and film is an unlikely saga that has never before been fully told.
Now, critic and theater director Isaac Butler chronicles the history of the Method in a narrative that transports readers from Moscow to New York to Los Angeles, from The Seagull to A Streetcar Named Desire to Raging Bull. He traces how a cohort of American mavericks--including Stella Adler, Lee Strasberg, and the storied Group Theatre--refashioned Stanislavski's ideas for a Depression-plagued nation that had yet to find its place as an artistic powerhouse. The Group's feuds and rivalries would, in turn, shape generations of actors who enabled Hollywood to become the global dream-factory it is today. Some of these performers the Method would uplift; others, it would destroy. Long after its midcentury heyday, the Method lives on as one of the most influential--and misunderstood--ideas in American culture.
Studded with marquee names--from Marlon Brando, Marilyn Monroe, and Elia Kazan, to James Baldwin, Ellen Burstyn, and Dustin Hoffman--The Method is a spirited history of ideas and a must-read for any fan of Broadway or American film.
Praise for The Method: How the Twentieth Century Learned to Act
"[An] engaging and meticulously researched history … Like a good 19 century omniscient novelist, Butler hops seamlessly among his characters' points of view while recounting their lives and times … Butler's history is an indispensable account of a revolution in acting that ramified beyond the theater." —Los Angeles Times
"It's hard to believe that a style of performance developed amid the turbulence of revolutionary Russia would change Hollywood forever, but the author Isaac Butler makes a compulsively readable case for just that in this 'biography' of Method acting." —The New York Times
"Thoroughly engrossing … Butler makes an airtight case for the Method as an artistic revolution on par with other mid-century advances." —The Boston Globe
"Delicious, humane, probing, and beautifully researched, [The Method is] a cultural history that reaches beyond its immediate subject to point at the currents moving under America herself." —Vulture, Most Anticipated Books of 2022
"Butler's lively, well-researched and marvelously readable book isn't just for actors, but also for anyone who loves watching them … The Method is a rich book, highly entertaining but also gratifyingly specific, about the point of connection between actor and observer, the lightning flash between us and them that, when it happens, is impossible to adequately describe or explain. If it's grand, it's also granular, a gift of humility drawn from an actor's ego." —Time Magazine
"Intense, deeply researched, historically alert, well-written, eminently readable (and gossipy)." —Wall Street Journal
"Meticulous, immersive" —The Atlantic
"As Isaac Butler shows in his pitch-perfect 'biography' of the acting method that has consumed generations of actors, the main thing to know about the Method is that it means different things to different people. Just like real people do." —San Francisco Chronicle, Favorite Nonfiction of 2022
"Richly researched and rigorously argued, The Method is a guide to an American school of acting we understand very little for how much we talk about it." —Vox, Best Books of 2022
"Butler knows how to liven up history by focusing on human personalities and foibles. Even as he writes about the various legends who sculpted modern acting, he never fails to find the humor and humanity in his subjects. Seminal acting gurus like Konstantin Stanislavski and Stella Adler are giants, but Butler never loses sight of the fact that they were also goofy theater kids." —Salon
"Fascinating … an exhaustive yet never exhausting account of the system that would define the American stage and screen, all the while showing how the craft of acting-and our perception of that craft-has evolved over time." —Vanity Fair, Best Books of 2022
"Expertly and exactingly told … Butler clearly parses the murky divisions that continue to define the Method, then and today." —AV Club
"Intelligent and entertaining … Butler's appreciation of acting-and art in general-as an expression of the temper of its times brings welcome insights throughout the book. Like The World Only Spins Forward, the excellent oral history of Angels in America he coauthored, The Method gives us cultural history that's both smart and wonderful fun to read." —American Theatre
"Butler accomplishes what the Method's devotees sought to do in their performances, bringing color and dimension to figures who might have been boxed into archetypal roles (omniscient godhead or exploitative charlatan) and presenting them to us in all their brilliant, infuriating complexity. The scope of the book is sweeping, the figures entering and exiting the narrative often larger-than-life, but each quote and anecdote Butler chooses to include draws them close enough to touch." —Bookforum
"An engaging and accessible account of a niche, complicated subject … [Butler] dispels common misconceptions about the Method and shows just how much 21st century actors owe to a handful of acting teachers and their esoteric ideas … a fascinating study in how intellectual movements splinter." —Washington Examiner
"What a production! … A print-form master class in The Method. This comprehensive history of the great American acting style is the present and likely future standard-bearer for books on the subject." —Shelf Awareness
"Elegantly written, filled with remarkable detail and incisive commentary, Isaac Butler's sweeping historical epic is the literary equivalent of an irresistible binge-watch, propelled by emotional twists and turns, surprising cliffhangers, and a cast of the greatest actors, directors, writers, and teachers of the last two centuries. The fact that he has done all that while also writing what I think is the best and most important book about acting I've ever read is a major achievement. This is an essential book for anyone in the acting profession as well as for anyone who's ever wondered 'How did they learn all those lines?'" —Nathan Lane
"Butler is the perfect guide-brilliant, insightful, and slyly funny-through the long life of contemporary performance. The Method, like its subject, is forceful, restless, and, above all, real." —Vinson Cunningham, theater critic, The New Yorker
"Riveting and comprehensive. A narrative one doesn't simply read, but experiences." —Caseen Gaines, author of FOOTNOTES
"An intoxicating mix of history, illuminating character studies, delicious gossip, and a persuasive and revelatory argument about how the Method has been used, abused, and misunderstood. Essential reading, glorious reading." —Megan Abbott, screenwriter and bestselling author of THE TURNOUT
"A brilliant book that brims with exuberance, compassion and-of course-a keen eye for the dramatic." —Glenn Frankel, author of SHOOTING MIDNIGHT COWBOY
"The Method is erudite and deeply researched, but it's also vibrant, energetic, accessible, and often very funny-rich with personalities and packed with insight." —Mark Harris, bestselling author of MIKE NICHOLS: A LIFE and PICTURES AT A REVOLUTION
"Vividly recreates a fascinating moment of time, filled with creativity, rivalry, artistry, and absurdity, that profoundly transformed American film and theater, with reverberations still being felt today." —William J. Mann, author of THE CONTENDER: THE STORY OF MARLON BRANDO
"A rich, rollicking dive into one of the most influential philosophies of the century, The Method. Tracing a century of schisms, experiments, breakthroughs, and breakdowns, Butler brings to life the desperate, sometimes dark struggle to turn acting into a science and a faith." —Emily Nussbaum, author of I LIKE TO WATCH
"Isaac Butler has turned a brilliant concept into a compulsively readable cultural history that's truly unique. I was entertained and enlightened!" —Julie Salamon, author of THE DEVIL'S CANDY and WENDY AND THE LOST BOYS