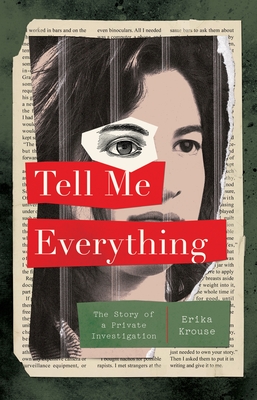 Tell Me Everything: The Story of a Private Investigation
Publication Date:
March 14th, 2023
Publisher:
Flatiron Books
Usually Ships in 1 to 5 Days
Description
Winner of the 2023 Edgar Award for Best Fact Crime • A New York Times Book Review Editors' Choice
Part memoir and part literary true crime, Tell Me Everything is the mesmerizing story of a landmark sexual assault investigation and the female private investigator who helped crack it open.
Erika Krouse has one of those faces. "I don't know why I'm telling you this," people say, spilling confessions. In fall 2002, Erika accepts a new contract job investigating lawsuits as a private investigator. The role seems perfect for her, but she quickly realizes she has no idea what she's doing. Then a lawyer named Grayson assigns her to investigate a sexual assault, a college student who was attacked by football players and recruits at a party a year earlier. Erika knows she should turn the assignment down. Her own history with sexual violence makes it all too personal. But she takes the job anyway, inspired by Grayson's conviction that he could help change things forever. And maybe she could, too.
Over the next five years, Erika learns everything she can about P. I. technique, tracking down witnesses and investigating a culture of sexual assault and harassment ingrained in the university's football program. But as the investigation grows into a national scandal and a historic civil rights case that revolutionizes Title IX law, Erika finds herself increasingly consumed. When the case and her life both implode at the same time, Erika must figure out how to help win the case without losing herself.
Praise for Tell Me Everything: The Story of a Private Investigation
Winner of the 2023 Edgar Award for Best Fact Crime
A New York Times Book Review Editors' Choice
A Colorado Book Awards Finalist for Creative Nonfiction
A Best Book of the Year (Slate, Jezebel, BookPage, Kirkus)
A Most Anticipated Book (Harper's Bazaar, Real Simple, Elle, BookPage, Book Riot, Literary Hub, The Millions, CrimeReads)
A People Magazine Book of the Week
"Masterful…As compelling as any detective novel…Mesmerizing on every page."
—Washington Post
"[A] beautifully written, disturbing and affecting memoir. This is literary nonfiction at a high level."
—New York Times Book Review
"Splendid…Startlingly fresh…Tell Me Everything isn't a testimony of suffering. It's the evidence of what Krouse has made from it: an artist, and a formidable one."
—Slate
"Riveting…Krouse's fight for justice shows how we can truly enact change—in society and in ourselves."
—People Magazine
"An engrossing memoir…[Krouse's] personal account reads like addictive true crime, and the emotional ending makes this an unforgettable read."
—Real Simple
"[An] unnerving, haunting book...A triumph of literary reportage and memoir that doesn't flinch at the ugliest truths—from others and herself."
—Sarah Weinman, Air Mail

"True crime fanatics will devour this memoir."
—Harper's Bazaar

"Both narratively straightforward and complex with introspection…Krouse figures out a whole new way to do what good writing does: She makes the personal universal and vice versa."
—Jezebel
"Remarkable."
—CrimeReads

"Stirring, stunning, and gently hopeful…A painful yet purposeful book, beautifully executed, utterly unputdownable."
—Modern Mrs. Darcy

"Riveting and consistently insightful…Rather than simply demonizing individuals, the author convincingly demonstrates how institutional practices have enabled (and covered up) predatory environments…The personal narrative, interwoven seamlessly alongside the professional one, is equally compelling…An exceptionally well-told, perceptive examination of a sexual abuse scandal and its personal and social relevance."
—Kirkus (starred review)
"[An] enthralling blend of true crime and memoir…What began as a fight for one woman's justice becomes a battle Krouse fights against her own inner demons that eloquently contends with systemic issues still plaguing American institutions today. The emotional catharsis delivered by the book's end turns this sensational tale into a stunning story of redemption and hope. Readers will be gripped."
—Publishers Weekly (starred review)
"Expert, nuanced…Krouse deftly explores the complicated dynamics between the university, students, and college athletics. She seamlessly weaves elements of her own history into the narrative…Readers will devour this searingly intimate tale of institutional misogyny. An important addition for all libraries."
—Library Journal (starred review)
"Riveting…Reads like a compelling detective novel…With utmost care and consideration for the victims, some of whom chose not to come forward, Krouse gives readers a behind-the-scenes look at the complications of pursuing a Title IX case…Tell Me Everything is a memorable, highly personal account of a landmark legal case, as well as a thoughtful examination of the long-lasting damage of sexual assault."
—BookPage (starred review)
"Compelling…Empathetic…Krouse's brutal candor and perceptive insights make for powerful storytelling."
—Booklist
"Tell Me Everything is the best story I've read in a long, long time. Each scene is a remarkable character study; each development is shocking. Told with incredible psychological insight, this book is an unstoppable inquiry that delivers justice for many and, finally, peace for the most deserving. That never happens in real life. Except in this case, it did. This book is beautiful, exhilarating, and wildly rewarding."
—Lacy Crawford, author of Notes on a Silencing

"Tell Me Everything is a reading event in the landscape of memoir unlike anything since Dave Eggers' A Heartbreaking Work of Staggering Genius. It's a tale of detection, a mystery, a legal thriller, a whodunit, but it's hardly escapist fare. Ingenious in its approach to impossible subjects, Krouse's vivid and original memoir is state of the art. Tell Me Everything is our new standard."
—Charles D'Ambrosio, author of Loitering

"I devoured Tell Me Everything over the course of two breathless days, harrowed and deeply moved. It is at once an exposé, a heart-rending narrative of family trauma and its long legacy, and a thrilling detective story—propulsive as anything by Raymond Chandler but with twice the emotional IQ. This is the most satisfying, urgent book I have read in a long time."
—Melissa Febos, author of Girlhood

"Krouse's remarkable Tell Me Everything affected me more than any memoir I've read in the last decade. Fueled by Krouse's searching intelligence and studded with moments of subtle humor, this astonishing, prescient personal tale possesses the urgency of a great novel. Put simply: I loved it."
—Joanna Rakoff, author of My Salinger Year

"Krouse has an eye for memorable details, an ear for arresting language, a relentless self-awareness, and a mind that roves tirelessly. Tell Me Everything is gripping and moving, both excavation and investigation, of Krouse's past and our collective present, and even of what future justice might look like."
—Caitlin Horrocks, author of Life Among the Terranauts

"Krouse achieves a singular accomplishment of voice in her stunning memoir. This book asks us all to reckon with the questions, at what cost justice and at what cost injustice? It is a brilliant book and one I will be thinking about for a long time to come."
—Michelle Bowdler, author of Is Rape a Crime?