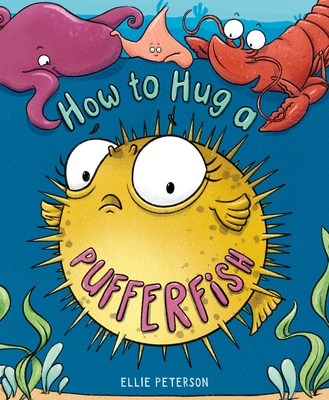 How to Hug a Pufferfish
Publication Date:
April 12th, 2022
Publisher:
Roaring Brook Press
Usually Ships in 1 to 5 Days
Description
A picture book about a group of underwater friends who learn to ask for permission before showing their prickly, pufferfish pal some love.
So, you want to hug a pufferfish...
Who could blame you? That friendly, gap-toothed grin is hard to resist! Only, when Pufferfish is hugged or touched unexpectedly by their friends, things can get a little…spiky.
It's not that Pufferfish doesn't ever want hugs—it's just that they need to have a say in when and how they're hugged. Luckily, they have great friends who are willing to listen and learn the best ways to show Pufferfish some love and respect their personal space.
With it's bright, commercial art and unique exploration of a timely topic, Ellie Peterson's How to Hug a Pufferfish provides a straightforward and humorous look at consent and body autonomy for kids.
Praise for How to Hug a Pufferfish
"Peterson's expressive undersea cast shines from the blue ocean depths with big, googly eyes and animated personalities. Serious topics of consent, respect, and finding other ways to show affection bounce through the waves and end up buoyantly accessible and clear." —Kirkus Reviews
"[Peterson's] wide-eyed underwater creatures have a goofy appeal, and it's easy to see the huggability of Pufferfish, with its bubbly eyes and gap-toothed smile. [A] gentle introduction to ideas of consent and boundaries." —The Bulletin of the Center for Children's Books

"Appealing characters and action, [make] this an engaging tome for burgeoning consent shelves." —School Library Journal