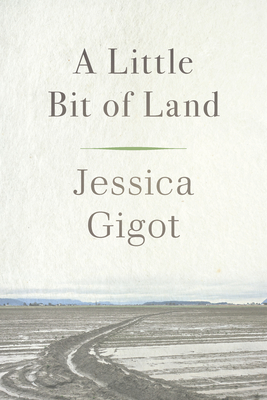 A Little Bit of Land
Publication Date:
September 1st, 2022
Publisher:
Oregon State University Press
Usually Ships in 1 to 5 Days
Description
From midwifing new lambs to harvesting basil, Jessica Gigot invites the reader into her life on a small farm and the uncommon road that led her there. Fascinated by farming and the burgeoning local food movement, she spent her twenties wandering the Pacific Northwest, interning at small farms and doing graduate work in horticulture, always with an eye towards learning as much as she could about how and why people farm. Despite numerous setbacks and the many challenges of farming, she created a family and farm life defined by resilience and a genuine love of the land.   
In A Little Bit of Land, Gigot explores the intricacies of small-scale agriculture in the Pacific Northwest and the changing role of women in this male-dominated industry. Gigot alternates between chapters describing joys, routines, and challenges of farm life and chapters reflecting on her formative experiences in agriculture, on farms and in classrooms from Ashland to the Skagit Valley. Throughout, she explores questions of sustainability, economics, health, and food systems.
Praise for A Little Bit of Land
"To ruminate, Jessica Gigot reminds readers in A Little Bit of Land, means both to think deeply and to chew cud. This delightful approach to life—thoughtful and grounded, idealistic and pragmatic—steers Gigot's wonderful new memoir. She is the warmest of narrators, self-aware, earnest, and imperfect. A Wendell Berry devotee who sells cucurbits to cruise ships, a landowner who nurtures respect for indigenous people, a mother, lover, farmer, teacher. A poet, most of all. 'Pasture has its own grace,' she says. So, too, does this beautiful book. " —Ana Maria Spagna, author of Potluck and Now Go Home
"Jessica Gigot's memoir is a tender meditation on the meaning of home, the practice of farming, and what it means to be connected to the land. The writing is lyrical, immediate, and sharply observed. I loved being immersed in her world." —Claire Dederer, author of Love & Trouble and Poser
"Jessica Gigot's journey to the land is heartfelt and compelling, as are the lessons she gleans from the animals, plants, and people surrounding her in the Skagit Valley. I left this book feeling hope for women in sustainable agriculture and the communities lucky enough to have them." —Stephanie Anderson, author of One Size Fits None: A Farm Girl's Search for the Promise of Regenerative Agriculture