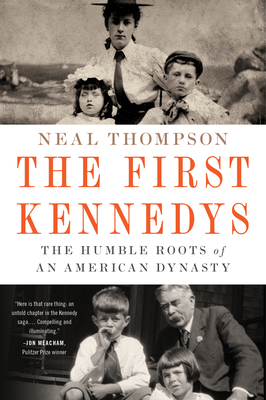 The First Kennedys: The Humble Roots of an American Dynasty
Publication Date:
February 21st, 2023
Usually Ships in 1 to 5 Days
Description
"Here is that rare thing: an untold chapter in the Kennedy saga. . .Compelling and illuminating."—Jon Meacham
Based on genealogical breakthroughs and previously unreleased records, this is the first book to explore the inspiring story of the poor Irish refugee couple who escaped famine; created a life together in a city hostile to Irish, immigrants, and Catholics; and launched the Kennedy dynasty in America.
Their Irish ancestry was a hallmark of the Kennedys' initial political profile, as JFK leveraged his working-class roots to connect with blue-collar voters. Today, we remember this iconic American family as the vanguard of wealth, power, and style rather than as the descendants of poor immigrants. Here at last, we meet the first American Kennedys, Patrick and Bridget, who arrived as many thousands of others did following the Great Famine—penniless and hungry. Less than a decade after their marriage in Boston, Patrick's sudden death left Bridget to raise their children single-handedly. Her rise from housemaid to shop owner in the face of rampant poverty and discrimination kept her family intact, allowing her only son P.J. to become a successful saloon owner and businessman. P.J. went on to become the first American Kennedy elected to public office—the first of many.
Written by the grandson of an Irish immigrant couple and based on first-ever access to P.J. Kennedy's private papers, The First Kennedys is a story of sacrifice and survival, resistance and reinvention: an American story.
Praise for The First Kennedys: The Humble Roots of an American Dynasty
"Here is that rare thing: an untold chapter in the Kennedy saga. Neal Thompson has given us a compelling and illuminating book about one of the most important families in our history—a family that represents so much about America then. And now."   — Jon Meacham, Pulitzer Prize winner and #1 New York Times best-selling author of Thomas Jefferson: The Art of Power
"Here is the chaos, claustrophobia, tragedy, and triumph of immigrant America told through one city and one iconic family. Just when you thought you knew everything there was to know about the Kennedys, along comes Neal Thompson with this brilliant re-creation of the Irish diaspora succeeding in a city that for many years would not allow them to be part of the American story. It's great storytelling."  — Timothy Egan, Pulitzer Prize winner and New York Times best-selling author of The Immortal Irishman
"Compelling … ranks with the richly evocative work of Doris Kearns Goodwin and Thomas H. O'Connor." — Boston Globe
"Thompson's impressive research and engaging exposition create a unique addition to the Kennedy canon. This is not just the story of the Kennedys; Thompson paints a picture of life for many Irish immigrants. History buffs should pick up this book immediately." — Booklist
"Drawing on archival material, contemporary publications, and family papers where sources about the Kennedys' early years are scant, Thompson provides solid historical context about the plight of Irish immigrants, roiling national politics, and changing demographics … A lively biography of an iconic family before it became famous." — Kirkus Reviews
"To understand the unforgettable stories of Jack and Bobby, Eunice, Ted, and the rest of their celebrated generation of Kennedys, we have to understand the stories of their extraordinary great-grandparents and grandparents. Now, thanks to Neal Thompson, we can. Read all about it in The First Kennedys."  — Larry Tye, author of Bobby Kennedy: The Making of a Liberal Icon
"A fresh, engrossing, and profoundly relatable look at a family that everyone thinks they know. Crafting a saga elevated by dogged research and transporting prose, Neal Thompson casts the humble beginnings of an American dynasty into surprising and penetrating light. Unforgettable."    — Denise Kiernan, New York Times best-selling author of The Last Castle and The Girls of Atomic City
"Bridget Kennedy, JFK's grandmother, achieved the American dream, but her story has been buried in patriarchal lore. No more. In this fascinating book, Neal Thompson gives Bridget her due—and in the process, makes us reconsider JFK's origin story."  — Alexis Coe, historian and New York Times best-selling author of You Never Forget Your First: A Biography of George Washington
"Neal Thompson's The First Kennedys is both a profound portrait of the immigrant experience and an intimate look at the origins of an American dynasty. Deeply researched, intricately layered, and written in sparkling prose, this is narrative history at its finest." — Karen Abbott, New York Times best-selling author of The Ghosts of Eden Park and Sin in the Second City
"I thought everything had been written about the Kennedy family, but Neal Thompson has proven me wrong. He has entered into the early years of the Kennedys and brought forth a stunning, intimate tale of the American family that fascinates us beyond all others." — Laurence Leamer, New York Times best-selling author of The Kennedy Women and The Kennedy Men
"An engrossing, real-life rags-to-riches tale." — Publishers Weekly
"Splendidly heterodox … Thompson brilliantly illuminates the strain of Mariolatry in the Kennedys that Bridget embodied." — Airmail
"Winsomely written … both an absorbing family story and a saga of the Irish diaspora in Boston." — Library Journal