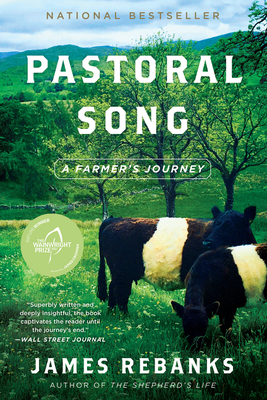 Pastoral Song: A Farmer's Journey
Publication Date:
August 16th, 2022
Usually Ships in 1 to 5 Days
Description
The acclaimed chronicle of the regeneration of one family's traditional English farm
NATIONAL BESTSELLER * Winner of the Wainwright Prize for Nature Writing * Named "Nature Book of the Year" by the Sunday Times * New York Times Editors' Choice * Shortlisted for the Orwell Prize and the Royal Society of Literature's Ondaatje Prize * A BEST BOOK OF THE YEAR: Sunday Times, Financial Times, New Statesman, Independent, Telegraph, Observer, and Daily Mail
"Superbly written and deeply insightful, the book captivates the reader until the journey's end." — Wall Street Journal
The New York Times bestselling author of The Shepherd's Life profiles his family's farm across three generations, revealing through this intimate lens the profound global transformation of agriculture and of the human relationship to the land.
As a boy, James Rebanks's grandfather taught him to work the land the old way. Their family farm in England's Lake District hills was part of an ancient agricultural landscape: a patchwork of crops and meadows, of pastures grazed with livestock, and hedgerows teeming with wildlife. And yet, by the time James inherited the farm, it was barely recognizable. The men and women had vanished from the fields; the old stone barns had crumbled; the skies had emptied of birds and their wind-blown song.
Hailed as "a brilliant, beautiful book" by the Sunday Times (London), Pastoral Song (published in the United Kingdom under the title English Pastoral) is the story of an inheritance: one that affects us all. It tells of how rural landscapes around the world were brought close to collapse, and the age-old rhythms of work, weather, community and wild things were lost. And yet this elegy from the northern fells is also a song of hope: of how, guided by the past, one farmer began to salvage a tiny corner of England that was now his, doing his best to restore the life that had vanished and to leave a legacy for the future.
This is a book about what it means to have love and pride in a place, and how, against all the odds, it may still be possible to build a new pastoral: not a utopia, but somewhere decent for us all.
[Published in the United Kingdom as English Pastoral.]
Praise for Pastoral Song: A Farmer's Journey
"Superbly written and deeply insightful, the book captivates the reader until the journey's end. ... Pastoral Song is a lament for lost traditions, a celebration of a way of living and a reminder that nature is 'finite and breakable.' Mr. Rebanks hits all the right notes and deserves to be heard." — Wall Street Journal, Best of the Month
"Thank the gods of agriculture for James Rebanks. … A lyrical narrative of experience, tracing 40 years and three generations of farming on his family's land as it is buffeted by the incredible shifts in scale, market, methods and trade rules that have changed farming all over the world. … We experience that esoteric life through Rebanks's evocative storytelling, learning with him to appreciate not only the sheep and crops he's learning to tend, but the wild plants and animals that live among and around them." — New York Times Book Review, Editor's Choice
"Rebanks has a gift for capturing both the allure of his beautiful surroundings and his difficult work, and for articulating the complex, worrisome issues facing farmers today. Pastoral Song enchants. ... Urgently conveys how the drive for cheap, mass-produced food has impoverished both small farmers and the soil, threatening humanity's future." — NPR.org, What We're Excited to Read Next Month
"Rebanks, who runs a family-owned farm in England's Lake District and wrote the 2015 bestseller The Shepherd's Life, waxes lyrically about his bucolic surroundings while also delivering an eloquent treatise on the problems of modern agriculture." — Washington Post
"Rebanks' lifetime spent farming gives this book its credibility; his sensible tone gives it its power. And his eloquence describing his beloved farm gives it its beauty." — Minneapolis Star Tribune
"Remarkable … A brilliant, beautiful book … Eloquent, persuasive and electric with the urgency that comes out of love." — Sunday Times (London)
"Rapturous … a paean to a more life-enhancing approach to farming … For Rebanks writing and farming have proved complementary: while working long hours on the land he has produced a book in a pastoral tradition that runs from Virgil to Wendell Berry." — Blake Morrison, Guardian
"James Rebanks's fierce, personal description of what has gone wrong with the way we farm and eat, and how we can put it right, gets my vote as the most important book of the year ... Some books change our world. I hope this turns out to be one of them." — Julian Glover, Evening Standard
"Pastoral Song is a wonder of a book, fierce, tender, and beautiful. Deeply personal but also global in significance, its pages course with love and concern so palpable I more than once wept while reading it. James Rebanks writes lyrically and passionately of the shadow that has fallen over our relationship with land, and how we might reconfigure the ways we think about it, relate to it, interact with it, and with each other. It's both a sobering, urgent read and a deeply inspiring, hopeful one. The book, and author, are to be treasured." — Helen Macdonald, New York Times bestselling author of H is for Hawk
"Rebanks offers a sensible way to think about food and the planet. ... His prose will transport readers, introducing them to both the harsh realities and the joys of everyday life on a piece of land that has deep, personal meaning." — Christian Science Monitor, Best of the Month
"James Rebanks's new book may be the most passionate ecological corrective since Rachel Carson's Silent Spring." — New York Review of Books
"Lyrical and passionate … I was gripped from the very first paragraph … Rebanks has shone a brilliant light onto a world about which the vast majority of people know little … a cri de coeur for a healthier countryside, rather than a manifesto … a magnificent book." — Literary Review
"Beautiful and shocking, but ultimately so gloriously hopeful. The book we should all read as we emerge from this latest strangeness." — Paula Hawkins, #1 Bestselling Author of Girl on the Train
"He is eloquent — scenes of mud and guts are interspersed with quotes ranging from Virgil to Schumpeter, Rachel Carson to Wendell Berry … English Pastoral builds into a heartfelt elegy for all that has been lost from our landscape, and a rousing disquisition on what could be regained — a rallying cry for a better future." — Financial Times
"I have been thrilled by English Pastoral, an account of farming by James Rebanks. A real working farmer, whose own reading runs from Virgil to Schumpeter, he lays out in great detail just what has gone wrong, and what can be done to put it right." — Andrew Marr, Spectator
"This elegy that captures the soul of British farming – its families and their land from which they are indivisible … Rebanks's observations are rich with detail. He writes with a simplicity that hides his scholarship (how many Cumbrian farmers can quote from Virgil's Georgics?) and some passages are right up there with Laurie Lee's Cider with Rosie … This is a wonderful book. James Rebanks writes with his heart and his heart is in the right place. We should listen to him." — Telegraph
"James Rebanks's story of his family's farm is just about perfect.  It belongs with the finest writing of its kind." — Wendell Berry
"What a terrific book: vivid and impassioned and urgent – and, in both its alarm and its awe for the natural world, deeply convincing.  Rebanks leaves no doubt that the question of how to farm is a question of human survival on this hard-used planet.  He should be read by everyone who grows food, and by everyone who eats it." — Philip Gourevitch
"Rebanks is a rare find indeed: a Lake District farmer whose family have worked the land for 600 years, with a passion to save the countryside and an elegant prose style to engage even the most urban reader. He's refreshingly realistic about how farmed and wild landscapes can coexist and technology can be tamed. A story for us all."  — Evening Standard (London)
"A beautifully written elegy to traditional farmers and farming methods. ... A lovely cautionary tale filled with pride, hope, and respect for the land and its history." — Kirkus Reviews (starred review)
"Part lament, part manifesto, this book does what most critical books about agriculture fail to accomplish—it acknowledges the value of nature and provides a convincing argument that humans have a necessary role in it—only, however, if we are enduring enough to stay, and pay attention, and live quietly within our means, season after unpredictable season." — Orion Magazine
"This intimate and moving book is timely and relatable. ... With a critical and curious eye, he asks of himself—and society at large—what does it mean to be a "good" farmer?" — Civil Eats
"Rebanks set about to bring back a way of life that's uncommon in his rural English countryside, and by the time you get to his final chapter, you'll wish you were there. Pastoral Song is a lushly meditative and wonderful story that's perfect for any farmer and every wanna-be with a dream." — Yankton Daily Press
"A vividly-recalled memoir of a farming childhood, but also a forensic defence of the kind of agriculture that has nearly been wiped out. ... Perceptive, eloquent, and passionate. ... Rebanks writes so well that I can't imagine anyone starting to read it and not being eager to read it all at once, as I did, and not being moved by the life and the landscape he describes so well. I was thrilled by it." — Philip Pullman, #1 bestselling author of the "His Dark Materials" series?
"It's gorgeous … I can't recommend it enough." — Caitlin Moran, NYT bestselling author of How to Be a Woman
"This is a rare and urgent book whose beauty is not only in the writing but in what lies behind it: a gentle and wise sensibility that is alive to the human love affair with the land, and yet also intimately aware of our systematic cruelty towards it. James Rebanks reveals this paradoxical condition with great sensitivity. We are very lucky to have him." — Hisham Matar, Pulitzer Prize-winning author of The Return: Fathers, Sons, and the Land in Between
"Moving, thought-provoking and beautifully written." — James Holland, author of Normandy '44
"James Rebanks writes with insight, honesty and a deeply entrenched love for the land. English Pastoral is thought-provoking, often challenging and at its heart is a beautifully-written story of a family, a home and a changing landscape."  — Nigel Slater, chef and author of Greenfeast
"James Rebanks combines the descriptive powers of a great novelist with the pragmatic wisdom of a farmer who has watched his world transformed. English Pastoral is a profound and beautiful book about the land, and how we should live off it." — Ed Caesar, contributing writer, The New Yorker
"James Rebanks is a beautiful writer, in a unique position to describe the challenges currently being faced by farmers throughout the world. English Pastoral is a joy to read and extremely moving – a book which should be read by every citizen." — Patrick Holden, Founder of the Sustainable Food Trust
"A beautiful and important book." — Sadie Jones, author of The Uninvited Guests
"One of the most important books of our time. Anyone who cares about our land – indeed, anyone who buys food – should read this book. Told with humility and grace, this story of farming over three generations – where we went wrong and how we can change our ways – is at the forefront of a revolution. It will be our land's salvation." — Isabella Tree
"Rebanks is a deeply gifted student learning from Mother Nature and generations of farmers before him. His wonderful and timely book is an account of one farmer's lifelong effort to do right by his family, his land, his animals and his ecosystem.  Like Wendell Berry, he reminds us where to find the good work that needs doing." — Nick Offerman
"A lovely and enlightening book." — Minneapolis Star Tribune