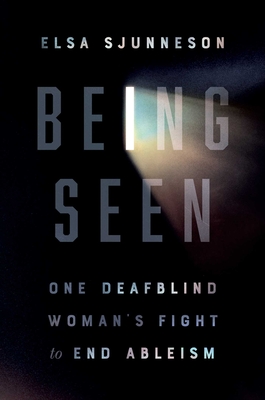 Being Seen: One Deafblind Woman's Fight to End Ableism
Publication Date:
November 1st, 2022
Publisher:
S&S/Simon Element
Usually Ships in 1 to 5 Days
Description
A Deafblind writer and professor explores how the misrepresentation of disability in books, movies, and TV harms both the disabled community and everyone else.
As a Deafblind woman with partial vision in one eye and bilateral hearing aids, Elsa Sjunneson lives at the crossroads of blindness and sight, hearing and deafness—much to the confusion of the world around her. While she cannot see well enough to operate without a guide dog or cane, she can see enough to know when someone is reacting to the visible signs of her blindness and can hear when they're whispering behind her back. And she certainly knows how wrong our one-size-fits-all definitions of disability can be.
As a media studies professor, she's also seen the full range of blind and deaf portrayals on film, and here she deconstructs their impact, following common tropes through horror, romance, and everything in between. Part memoir, part cultural criticism, part history of the Deafblind experience, Being Seen explores how our cultural concept of disability is more myth than fact, and the damage it does to us all.
Praise for Being Seen: One Deafblind Woman's Fight to End Ableism
"Being Seen is a sharp, necessary book. Sjunneson's clarity of thought and entertaining prose illuminate her life and our world. A powerful and resonant reading experience." —Kat Howard, Alex Award-winning author of An Unkindness of Magicians
"With sharpened words aimed squarely at a cultural image that marginalizes disabled women, Elsa Sjunneson is an emerging icon. Being Seen is her unkindest cut; sparing no one from the frank truth of her life as a Deafblind woman and filleting the intersections of identity with her trademark incisive logic and vulnerable memoir. This book will leave scars."—Meg Elison, author of Big Girl
"A riotous blend of memoir and cultural criticism that defies expectations on nearly every page. Being Seen persuasively argues that it is not only the disabled body that must adapt to the world but also the world that must adapt around the disabled body." —M. Leona Godin, author of There Plant Eyes: A Personal and Cultural History of Blindness
"A blend of memoir, media criticism, and cultural critique, Being Seen is both vulnerable and bold. It covers Sjunneson's particular experiences of everything from sword fighting to protesting, and looks to media to trace the ways the images of disability in America often stand in stark contrast to lived experience. Most important, it is a challenge: an unflinching demand for representation, accessibility, and justice."—Katie Booth, Author of The Invention of Miracles
"Engaging, unflinching, and at times intentionally uncomfortable, Being Seen is a call to action cleverly disguised as a book."—Marieke Nijkamp, bestselling author and editor of Unbroken: 13 Stories Starring Disabled Teens
"Elsa Sjunneson's tremendous Being Seen is a must read. I delighted in the footnotes, the shifts from public disability mythologies to what IS, and on both public & personal levels, the reality. So glad this exists." —Fran Wilde, double-Nebula award winning author of Updraft and Riverland
"Sjunneson is a brilliant mixture of scholar, activist, and essayist, who weaves her powerful experiences together with deep analysis of culture and media; a read as engrossing as it is chilling." —Ada Palmer, Historian and Award-winning Author of Too Like the Lightning.
"A combination of personal memoir and shrewd examination of the ways in which society and media shape our perceptions of disability. A much-needed wake-up call for the nondisabled world." —Kirkus Reviews
"An award-winning writer and a powerful activist, Sjunneson challenges conventional wisdom on everything from sex (yes, Deafblind people have it) to blindness (it doesn't usually cause complete darkness). As she writes, "nondisabled people, buckle up." "—Karen Springen, Booklist