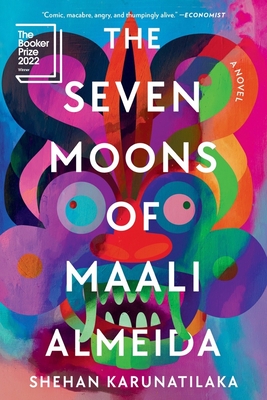 The Seven Moons of Maali Almeida
Publication Date:
November 1st, 2022
Publisher:
W. W. Norton & Company
Usually Ships in 1 to 5 Days
Description
An Instant National Bestseller • One of The New York Times 100 Notable Books of 2022 • An NPR Book We Loved in 2022 • Named a Best Fiction book of 2022 by the Washington Post, Times (UK), Financial Times, and The Guardian.
Winner of the 2022 Booker Prize, The Seven Moons of Maali Almeida is a searing satire set amid the mayhem of the Sri Lankan civil war.
Colombo, 1990. Maali Almeida—war photographer, gambler, and closet queen—has woken up dead in what seems like a celestial visa office. His dismembered body is sinking in the serene Beira Lake and he has no idea who killed him. In a country where scores are settled by death squads, suicide bombers, and hired goons, the list of suspects is depressingly long, as the ghouls and ghosts with grudges who cluster round can attest. But even in the afterlife, time is running out for Maali. He has seven moons to contact the man and woman he loves most and lead them to the photos that will rock Sri Lanka.
Ten years after his prize-winning novel Chinaman established him as one of Sri Lanka's foremost authors, Shehan Karunatilaka is back with a "thrilling satire" (Economist) and rip-roaring state-of-the-nation epic that offers equal parts mordant wit and disturbing, profound truths.
Praise for The Seven Moons of Maali Almeida
Karunatilaka's novel breaks with conventional modes of storytelling to reveal humanness in a strange, sprawling, tragic situation... Like Rushdie's Midnight's Children, Grass's Tin Drum and Bulgakov's The Master and Margarita, Karunatilaka's book is supremely confident in its literary heterodoxy, and likewise in offering idiosyncratic particularities of ordinary Sri Lankan life well beyond the serious matters of politics, history, religion and mythology... Readers everywhere will find in such demanding specificity what we all seek from great books: the exciting if overwhelming fullness of an otherwise unknown world told on its own terms, and that frisson of unexpected identification and understanding that comes from working to stay in it.
— Randy Boyagoda - New York Times Book Review
Comic, macabre, angry and thumpingly alive... [Maali's voice] has bite, brilliance, and sparkle... Still, the furious comedy in Mr. Karunatilaka's novel never courts despair.
— Economist
There can't be many novels that simultaneously bring to mind Agatha Christie, Salman Rushdie, Raymond Chandler, John le Carré and Stranger Things—but this one does... Karunatilaka respects the conventions of all the genres that he piles up so extravagantly...The result is an unexpectedly exhilarating read.
— James Walton - Times [UK]
A mix of mischievous magic realism and absurdist humour... [A] wild, uncategorisable [novel].
— Claire Allfree - Telegraph
The obvious literary comparisons are with the magical realism of Salman Rushdie and Gabriel García Márquez. But the novel also recalls the mordant wit and surrealism of Nikolai Gogol's Dead Souls or Mikhail Bulgakov's The Master and Margarita... Karunatilaka has done artistic justice to a terrible period in his country's history.
— Tomiwa Owolade - Guardian
This book is difficult to categorise. With ghosts and spirits in the afterlife, it is part supernatural. But it also gives you a thorough grounding in Sri Lankan politics. And as the narrative gathers pace it becomes a whodunnit. The result is a thrilling read.
— Rebecca Jones - BBC
The most significant work of Sri Lankan fiction in a decade... Amid the dryness, satire and weary lamentations on the state of Sri Lanka there is genuine heart to this novel.
— Charlie Connelly - New European Review