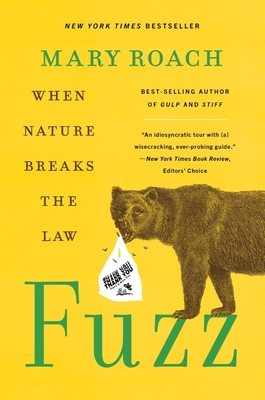 Fuzz: When Nature Breaks the Law
Publication Date:
August 30th, 2022
Publisher:
W. W. Norton & Company
Usually Ships in 1 to 5 Days
Human encounters with wildlife are increasing as land development shrinks wildlife habitat. Roach recounts dangerous engagements, some head-shaking practices, and plenty of laugh-out-loud turf wars.
September 2021 Indie Next List
Roach playfully explores the trials and tribulations of human and wildlife cohabitation. From bear attacks in Colorado to elephant attacks in India, Roach blends science and humor and leaves you questioning our actual place on the food chain.
Fall 2022 Indie Next List for Reading Groups
Description
An Instant New York Times Bestseller
#1 Los Angeles Times Bestseller
#1 Indie Hardcover Nonfiction Bestseller
A Publishers Weekly Best Nonfiction Book of 2021
Longlisted for the 2022 Andrew Carnegie Medal for Excellence in Nonfiction
Join "America's funniest science writer" (Peter Carlson, Washington Post), Mary Roach, on an irresistible investigation into the unpredictable world where wildlife and humans meet.
What's to be done about a jaywalking moose? A bear caught breaking and entering? A murderous tree? Three hundred years ago, animals that broke the law would be assigned legal representation and put on trial. These days, as New York Times best-selling author Mary Roach discovers, the answers are best found not in jurisprudence but in science: the curious science of human-wildlife conflict, a discipline at the crossroads of human behavior and wildlife biology.
Roach tags along with animal-attack forensics investigators, human-elephant conflict specialists, bear managers, and "danger tree" faller blasters. Intrepid as ever, she travels from leopard-terrorized hamlets in the Indian Himalaya to St. Peter's Square in the early hours before the pope arrives for Easter Mass, when vandal gulls swoop in to destroy the elaborate floral display. She taste-tests rat bait, learns how to install a vulture effigy, and gets mugged by a macaque.
Combining little-known forensic science and conservation genetics with a motley cast of laser scarecrows, langur impersonators, and trespassing squirrels, Roach reveals as much about humanity as about nature's lawbreakers. When it comes to "problem" wildlife, she finds, humans are more often the problem—and the solution. Fascinating, witty, and humane, Fuzz offers hope for compassionate coexistence in our ever-expanding human habitat.
Praise for Fuzz: When Nature Breaks the Law
[Fuzz is] powerfully propelled by the force of Roach's unflinching fascination with the weird, the gross and the downright improbable... There's a wacky genius to [her] interjections...[Her] curious and generous engagement with her subjects makes for world-expanding reading.
— Amelia Urry - Washington Post
An idiosyncratic tour with Roach as the wisecracking, ever-probing guide... My favorite moments, ultimately, weren't the funny ones, but those that reveal a bit of scientific poetry.
— Vicki Constantine Croke - New York Times Book Review
Each chapter is packed with the results of [Roach's] detailed investigations. Roach uses footnotes to add both depth and lightness to the topic at hand by capturing misfit studies, asides, and hilarious tangents... Refreshing.
— Katherine E. Himes - Science
With her characteristic dry wit, [Roach] brings an intense fascination to the seldom discussed details and the at times absurd miscellany in the unexplored corners of unappreciated research... It is impossible not to smirk, chortle and sometimes outright belly laugh as you read her many wry asides and funny but fascinating footnotes... But the real trick Roach pulls off is to keep you laughing while at the same time making sure the earnest points come across.
— Tiffany O'Callaghan - New Scientist
Full of kernels of fascinating information... Her approach is informative and unpretentious, and she's always armed with a dry sense of humor. Roach will change the way you think about the great outdoors. What more could you ask for?
— Emerson Malone - Buzzfeed
The book brims with Roach's irreverent humor, which particularly shines when she experiences human-animal conflict firsthand... A blend of modern science and history, with Roach's flair for spotting hidden absurdities... As another entry in Roach's canon of books, Fuzz stands tall (and hairy), educating as much as it entertains.
— Bethany Brookshire - Science News
Reading a Mary Roach book is like spending a luxurious and joyful evening with the perfect dinner guest. Delightful facts become indelibly etched in your brain, and only later do you realize that hours have passed and your face slightly hurts from smiling too hard. In Fuzz, Roach's peerless storytelling skills are paired with a sense of moral urgency, as she recounts stories of humans and other animals, uneasily and clumsily learning to co-exist in a world that they must now share.
— Ed Yong, bestselling author of I Contain Multitudes
Hilarious! With Fuzz, Mary Roach again takes us into an unfamiliar scientific realm, in this case the science of managing the conflicts between humans and the natural world—lethal leopards, rampaging elephants, jet-downing birds, even killer trees. It's an ever-widening conflict zone, but one that Ms. Roach gleefully mines for a multitude of bizarre facts that'll make you snort coffee through your nose.
— Erik Larson, bestselling author of The Splendid and the Vile
This book is such a rich stew of anecdotes and lore that it's best savored slowly, bit by bit... No matter the situation, Roach approaches it with contagious enthusiasm.
— Alice Cary - BookPage (starred review)