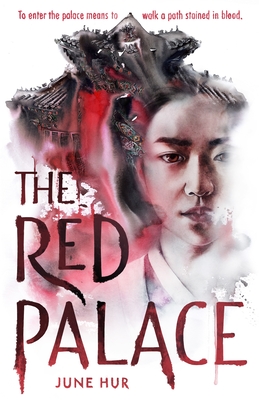 The Red Palace
Publication Date:
January 25th, 2022
Publisher:
Feiwel & Friends
Usually Ships in 1 to 5 Days
Description
June Hur, critically acclaimed author of The Silence of Bones and The Forest of Stolen Girls, returns with The Red Palace—a third evocative, atmospheric historical mystery perfect for fans of Courtney Summers and Kerri Maniscalco.
To enter the palace means to walk a path stained in blood...
Joseon (Korea), 1758. There are few options available to illegitimate daughters in the capital city, but through hard work and study, eighteen-year-old Hyeon has earned a position as a palace nurse. All she wants is to keep her head down, do a good job, and perhaps finally win her estranged father's approval.
But Hyeon is suddenly thrust into the dark and dangerous world of court politics when someone murders four women in a single night, and the prime suspect is Hyeon's closest friend and mentor. Determined to prove her beloved teacher's innocence, Hyeon launches her own secret investigation.
In her hunt for the truth, she encounters Eojin, a young police inspector also searching for the killer. When evidence begins to point to the Crown Prince himself as the murderer, Hyeon and Eojin must work together to search the darkest corners of the palace to uncover the deadly secrets behind the bloodshed.
Praise for The Red Palace:
An ABA Indie Bestseller
A Junior Library Guild Selection
Forbes Most Anticipated Book of 2022 Selection

"A tense political thriller, a beautiful romance, and a coming of age all in one unique package." —School Library Journal, starred review

"This atmospheric historical mystery will transport and captivate readers ... A beautifully written story full of historical and cultural details that will leave readers aching for a follow-up." —Booklist, starred review
"An expertly choreographed mystery with a touch of romance and an emotionally satisfying conclusion ... The perfect book to curl up with for a cozy winter afternoon of murder and intrigue." —NPR
Praise for The Red Palace
Praise for The Red Palace:
An ABA Indie Bestseller
An NPR Best Book of 2022
A 2023 Edgar Allan Poe Award Winner
A Junior Library Guild Selection
Forbes Most Anticipated Book of 2022 Selection
A Chicago Public Library Best Book of 2022
A School and Library Journal Best Book of 2022
A New York Public Library Best Book of 2022
A Globe and Mail Best Book of 2022 selection
A YALSA Best YA of 2022 Selection
A 2022 Freeman Book Award Honorable Mention
"Hur is known for her stunning female-centered historical YA novels, and this is arguably her darkest book yet. ... If slow-burn romances, well-paced plots and historical fiction set somewhere other than the West interest you, this book might just be your new favorite read." —Faridah Àbíké-Íyímídé, New York Times-bestselling author of Ace of Spades
"Compulsively readable and utterly unique, The Red Palace is a must-read murder mystery steeped in royal intrigue." —Jennifer Lynn Barnes, New York Times-bestselling author of The Inheritance Games

"Court politics and hierarchal society are the stunning backdrop of June Hur's page-turning, atmospheric The Red Palace. Hur's meticulous worldbuilding and immersive storytelling will have readers totally obsessed." —Adrienne Young, New York Times-bestselling author of Fable
"Hur's Joseon mysteries are groundbreaking, and this retelling of Prince Sado is no exception. ... Hur set the bar high with her previous works and has cleared it with room to spare. A tense political thriller, a beautiful romance, and a coming of age all in one unique package." —School Library Journal, starred review

"This atmospheric historical mystery will transport and captivate readers ... Hur deftly incorporates the class system, patriarchal restrictions, and court politics, as well as Korean words, into the storyline, broadening the world and cultural richness of the story ... A beautifully written story full of historical and cultural details that will leave readers aching for a follow-up." —Booklist, starred review

"Gripping ... An expertly choreographed mystery with a touch of romance and an emotionally satisfying conclusion that beautifully binds fiction to fact. It's the perfect book to curl up with for a cozy winter afternoon of murder and intrigue." —NPR
"I've devoured every book June Hur has written, so no surprise here that her newest book is one of my favorite reads of the year so far. ... I might as well inject Hur's writing straight into my veins for how quickly I gobble up everything she writes. Seriously, it's that good." —BookRiot
"Steeped in rich historical details, Hur's palace thriller offers a sharp critique of the monarchy's abuse of power while maintaining a quick pace and crafting a captivating murder mystery." —Publishers Weekly
"Deftly celebrates subversive female ingenuity. With captivating cinematic flair, [Hur] transforms true royal drama into a closeup-ready mesmerizing mystery. ... Seamlessly combines court intrigue, multiple murders and forbidden love to create a riveting YA historical thriller." —Shelf Awareness
"Exciting and fast-paced, this unusual detective story transports readers to Korea's Joseon Dynasty, providing (per the author's note) one version of the tragic true story of Crown Prince Jangheon. ... A testament to Hur's dedication in researching Korea's complex history. Romance, adventure, and mystery keep pages turning, and readers will undoubtedly find themselves drawn to Hyeon's smarts, ambition, and strong will." —The Horn Book

"If you are a fan of Korean historical dramas and murder mysteries, you cannot go wrong with June Hur's books. Her atmospheric prose brings Joseon-era Korea to life in all its richness and complexities while elegantly spinning a web of sinister intrigue and suspense. ... I'm excited to experience a mystery unfolding in the Changdeok Palace in its original language, without having to rely on subtitles and Wikipedia articles." —Reera Yoo, co-host of Books & Boba

"If you're going to write a historical novel, I want you to drop me into the details, baby. Hur's writing makes you feel like you've been transported to the streets of 18th century Korea. Her characters are always striving to do the right things with so little, driven to unravel mysteries, and she delicately exposes the corruption and seedy underbelly of the rich and powerful." —Forever Young Adult

Praise for The Forest of Stolen Girls:
A Junior Library Guild Selection
A 2022 Edgar Allan Poe Award Nominee
A YALSA Best Fiction for Young Adults Selection
A 2022 White Pine Award Nominee
A 2022 ALA Rise Selection
A 2022 CCBC Choices Selection

"A breathtaking journey through 1400s Korea. ... The mystery complements the setting perfectly, and the conclusion is well-plotted and satisfying. ... A must for all collections." —School Library Journal, starred review
"Crafting a suspenseful, atmospheric historical mystery, Hur (The Silence of Bones) explores women's lack of bodily agency during this time and the dangers of obsessive protection, adroitly interweaving the historical context of the real horrors that afflicted Korean women from the 13th-century Mongol rule until after 1435." —Publishers Weekly

"Set against the backdrop of fifteenth-century Korea—or Joseon, as it was known then—this tightly plotted historical mystery will please fans of both genres. ... Those who love well-researched historical fiction with darker themes such as Ruta Sepetys' Out of the Easy or Elizabeth Wein's Verity series, will appreciate Hur's attention to detail. Give to fans of Sherri L. Smith's The Blossom and the Firefly or Stacy Lee's Downstairs Girl looking for other well developed Asian characters." —YALSA
"Rich, exquisite, and deeply atmospheric, The Forest of Stolen Girls draws the reader in from the very first page and doesn't let go. A dark and utterly engrossing mystery, beautifully drawn from start to finish." —Kathleen Glasgow, New York Times-bestselling author of Girl in Pieces
"The Forest of Stolen Girls is a haunting, breathtaking tale that will have readers on the edge of their seats. With its lush and atmospheric prose, complex character dynamics, and an immersive mystery I was ravenous to uncover, I could not turn the pages fast enough! Hur is an absolute master of mystery, and I will be reading her gorgeous books for years to come." —Adalyn Grace, New York Times-bestselling author of All the Stars and Teeth
"Haunting and lyrical. Beware, this tale will draw you deeper into the forest than you want to go." —Stacey Lee, award-winning author of The Downstairs Girl
"A brilliant historical fiction mystery that is suspenseful, gorgeous and absolutely riveting! Hur brings Jeju Island during the early Joseon period completely to life in a rich, evocative manner that reminds me of watching my favorite historical Kdrama. ... I adored this book from start to finish!" —Ellen Oh, author of the Prophecy series
"Knee-deep inside Hur's taut, suspenseful snare, I felt the cold touch of secrets poking at my shoulder and sometimes, neck. Disappearances, quests, and family tension? I'm all the way in." —Rita Williams-Garcia, National Book Award finalist New York Times-bestselling author of A Sitting in St. James

Praise for The Silence of Bones:
An ABA Indies Introduce Selection
A Junior Library Guild Selection
A 2021 Edgar Allan Poe Award Nominee
A 2021 ALA Rise Selection
A 2020 Freeman Award Honorable Mention
A 2021 CCBC Amy Mathers Teen Book Award Finalist

"At once haunting and evocative, June Hur's The Silence of Bones is a gorgeous, tightly-woven debut. Prepare to delve deep into the lush and dangerous world of Korea in the 1800's for a page-turner you won't soon forget." —Hafsah Faizal, New York Times-bestselling author of We Hunt the Flame
"An intriguing tale that touches on class, honor, the value of one's beliefs, and the lengths one is willing to go for loyalty and family. Hur presents such a vivid portrayal of the Joseon Era that it's like stepping back in time. With its breathtaking prose and complex characters, this mystery novel is sure to keep you guessing until the very end!" —Kat Cho, author of Wicked Fox

"This gripping drama is definitely one you're not going to want to miss." —Buzzfeed
"A total knockout." —Popsugar
"Gripping ... An exhilarating thriller, pitting the powerful against the power-hungry, endowing the powerless with affecting agency." —Shelf Awareness
"This book is beautifully written, and moves at a brisk pace. ... Engaging and dynamic. Hur's first novel does an excellent job of exploring a topic that isn't found widely in YA literature." —School Library Journal

"The Korean concept of han, as well as customs, language, and politics, are woven flawlessly into the narrative ... Seol's determined pursuit of literacy and freedom, as well as the bittersweet ending, make for a memorable and worthwhile read." —Publishers Weekly

"In this striking debut, Hur has crafted an intriguing historical mystery set in a time period often overlooked in YA ... A compelling mystery for lovers of Victorian murder cases who are ready for an alternative to the London setting." —Booklist

"An excellent historical mystery that asks big questions about family, religion, morality, and what it means to belong." —Book Riot

"Read this book if you enjoy: supporting debut authors, Korean history, the 1800s, atmospheric reads, K-drama dramatics, books in which you start suspecting everyone." —Goodreads
"A fantastic debut from Hur, who writes a captivating story that keeps readers guessing and expertly explains the complex political climate ... The female characters' courage, ingenuity and warrior hearts are inspiring, and the story that reveals them is entrancing." —The Canadian Children's Book Centre
"I was struck by the depth of this gripping story. ... The meditative quality of the narration of this historical mystery felt perfectly suited to the Korean setting and the backdrop of political and religious struggles. Seol's courage, curiosity, and dedication make her a character I can't get enough of." —Tegan Tigani, Queen Anne Book Company
"The Silence of Bones is a historic and richly atmospheric mystery that is utterly unique and difficult to put down! ... Mesmerizing." —Sarah True, Joseph-Beth Booksellers