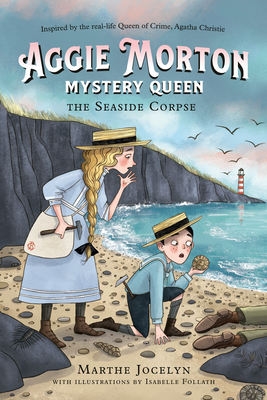 Aggie Morton, Mystery Queen: The Seaside Corpse
Publication Date:
November 1st, 2022
Usually Ships in 1 to 5 Days
Description
For young detective Aggie Morton and her friend Hector, an opportunity to dig up fossils becomes even more thrilling when a corpse washes ashore in this fourth book in the Aggie Morton, Mystery Queen series, inspired by the life of Agatha Christie as a child and her most popular creation, Hercule Poirot. For fans of Enola Holmes.
After an invigorating but not exactly restful trip to a Yorkshire spa during which she survived a near brush with death and foiled a murderer, aspiring writer Aggie Morton and her friend Hector are thrilled to have the opportunity to stay at a camp by the sea and watch real paleontologists at work. The famed husband and wife team of the Blenningham-Crewes are about to become even more famous with the recovery of the fossilized bones of an ichthyosaur from the sea by Lyme Regis. This news has already caught the attention of an American millionaire, a British museum and a travelling circus owner, who each want the bones for their own collections. Tensions are running high throughout the camp, from the cook, to the collectors, to the Blenningham-Crewes themselves, and become downright dangerous after Aggie and Hector make a discovery of their own: a body on the beach. Not a fossil, but a human body. 
Praise for Aggie Morton, Mystery Queen: The Seaside Corpse
WINNER of the 2023 Mystery Writers of America Edgar Allan Poe Award for Best Juvenile Mystery!
"[E]nthralling. . . . [A] good collection of information always goes down better with a good story to hang it on! The Seaside Corpse has both elements in spades, making a winning combination." —CM Reviews
"Jocelyn is funny without descending to parody. Her control of language is as precise as the rational methods which Agatha and Hector applying to solving mysteries. . . . [T]here is plenty of rewarding material here for readers, young and older, who enjoy informed, literate, and inventive fun." —Imaginary Elevators