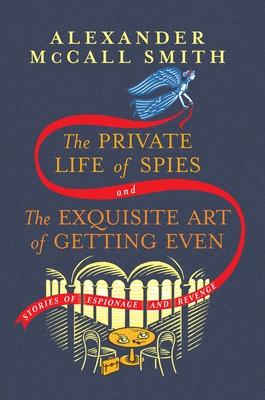 The Private Life of Spies and The Exquisite Art of Getting Even: Stories of Espionage and Revenge
Publication Date:
May 9th, 2023
Usually Ships in 1 to 5 Days
Description
From the beloved author of the No. 1 Ladies' Detective Agency series comes a new short story collection: half spy stories, half tales of revenge, all highlight the kinder, funnier, and gentler side of espionage and retribution.
In this dual collection of short stories, Alexander McCall Smith brings his trademark humor and warmth to inventive tales of spying and vengeance. In one story, a spy dropped deep into enemy territory manages to disguise himself--quite convincingly--as a nun. In another, an invitation to join the Vatican Secret Service sends a prospective operative down a rabbit hole of controversy and confusion. A third story finds an author, on the brink of public ruin, seeing the error of his ways after an act of kindness saves the day.
A keen observer of humanity imbued with a sparkling imagination, Alexander McCall Smith illustrates throughout that transparency is paramount and forgiveness is restorative. With surprising insight and a healthy helping of humor, these stories remind us that, in the end, the high road is often the better one for all involved.
About the Author
ALEXANDER McCALL SMITH is the author of The No. 1 Ladies' Detective Agency novels and of a number of other series and stand-alone books. His works have been translated into more than forty languages and have been best sellers throughout the world. He lives in Scotland.
Praise for The Private Life of Spies and The Exquisite Art of Getting Even: Stories of Espionage and Revenge
"Mr. McCall Smith is wonderfully skilled and winningly humane, whether chronicling law-and-order mysteries, ethical conundrums or international crises."
—The Wall Street Journal
"Taken together, the two parts echo each other. Each story provides a unique cast of characters and distinctly different plots, each offers a gentle portrait of people and society. And each is guided by the mastery of a consummate storyteller, offering another treasure to his already glittering library."
—New York Journal of Books
"Massively entertaining and thought-provoking."
—Booklist [starred review]