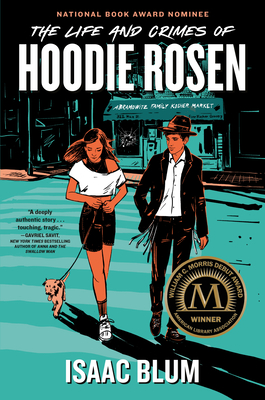 The Life and Crimes of Hoodie Rosen
Publication Date:
September 13th, 2022
Publisher:
Philomel Books
Usually Ships in 1 to 5 Days
Description
LONGLISTED FOR THE NATIONAL BOOK AWARD!
A WILLIAM C. MORRIS AWARD WINNER!
The Chosen meets Adam Silvera in this irreverent and timely story of worlds colliding in friendship, betrayal, and the hatred that divides us.
Hoodie Rosen's life isn't that bad. Sure, his entire Orthodox Jewish community has just picked up and moved to the quiet, mostly non-Jewish town of Tregaron, but Hoodie's world hasn't changed that much. He's got basketball to play, studies to avoid, and a supermarket full of delicious kosher snacks to eat. The people of Tregaron aren't happy that so many Orthodox Jews are moving in at once, but that's not Hoodie's problem.
That is, until he meets and falls for Anna-Marie Diaz-O'Leary—who happens to be the daughter of the obstinate mayor trying to keep Hoodie's community out of the town. And things only get more complicated when Tregaron is struck by a series of antisemitic crimes that quickly escalate to deadly violence.
As his community turns on him for siding with the enemy, Hoodie finds himself caught between his first love and the only world he's ever known.
Isaac Blum delivers a wry, witty debut novel about a deeply important and timely subject, in a story of hatred and betrayal—and the friendships we find in the most unexpected places.
Praise for The Life and Crimes of Hoodie Rosen:
"A deeply authentic story about the terror and glory of encountering the outside world without sacrificing who you are—and who you want to be. It's touching, tragic, and as Jewish as your Bubbe's cholent." –Gavriel Savit, New York Times bestselling author of Anna and the Swallow Man
"Blum gives the common but often-dismissed spiritual journey of many teens the respect it deserves in this witty, profound look at cross-cultural friendship, courageous honesty, and how a willingness to truly see and love our neighbors can change an entire community." –Vesper Stamper, National Book Award-nominated author of What the Night Sings
"A refreshingly human look at the day-to-day nuances of Orthodox Judaism and the terror of modern antisemitism. I laughed, I gasped, I craved kosher Starburst. Two thumbs up from this nice Jewish girl!" –Tyler Feder, Sydney Taylor Award-winning author of Dancing at the Pity Party
"Bold, brave, and brutally honest, it holds a permanent piece of my heart." –Dahlia Adler, author of Cool for the Summer
"Isaac Blum has the rare talent of telling searing, visceral truths in a witty, funny, punchy way . . . The Life and Crimes of Hoodie Rosen is a vital voice in Jewish YA canon." –Katherine Locke, Sydney Taylor Honor author of The Girl with the Red Balloon

Praise for The Life and Crimes of Hoodie Rosen
LONGLISTED FOR THE NATIONAL BOOK AWARD!
A WILLIAM C. MORRIS AWARD FINALIST!
Praise for The Life and Crimes of Hoodie Rosen:
 
"The Life and Crimes of Hoodie Rosen is a deeply authentic story about the terror and glory of encountering the outside world without sacrificing who you are—and who you want to be. It's touching, tragic, and as Jewish as your Bubbe's cholent." –Gavriel Savit, New York Times bestselling author of Anna and the Swallow Man
 
"Blum gives the common but often-dismissed spiritual journey of many teens the respect it deserves in this witty, profound look at cross-cultural friendship, courageous honesty, and how a willingness to truly see and love our neighbors can change an entire community." –Vesper Stamper, National Book Award-nominated author of What the Night Sings
 
"Yehuda 'Hoodie' Rosen's goofy yet deeply thoughtful voice is a perfect guide to the complexities of navigating an ancient religion in the TikTok age. A refreshingly human look at the day-to-day nuances of Orthodox Judaism and the terror of modern antisemitism. I laughed, I gasped, I craved kosher Starburst. Two thumbs up from this nice Jewish girl!" –Tyler Feder, Sydney Taylor Award-winning author of Dancing at the Pity Party
 
"The Life and Crimes of Hoodie Rosen is an uncannily insightful and resonant look into a world few of us call home and most never get to see. Bold, brave, and brutally honest, it holds a permanent piece of my heart." –Dahlia Adler, author of Cool for the Summer
 
"The Life and Crimes of Hoodie Rosen is a wry and poignant coming-of-age tale about trying to reconcile two different worlds. As Hoodie begins to reckon with the way his Orthodox community fits into their new town—and the way he fits into his community—he must also ask questions about love, family, and friendship. Both humorous and heartrending, readers will devour this book." –Hannah Reynolds, Sydney Taylor Honor author of Eight Nights of Flirting
 
"Hoodie's irreverent and witty voice draws you in immediately; though the novel deals with heavy topics, the pace never lags. I came for the Jewish rep and stayed for Hoodie and Anna-Marie. Can't wait to see more from Isaac Blum!" –Leah Scheier, Sydney Taylor Honor author of The Last Words We Said
 
"Keenly observant and frequently hilarious, readers will root for Hoodie as he navigates first love, makes mistakes and ultimately trusts his heart." –Laura Sibson, author of The Art of Breaking Things and Edie in Between

"Isaac Blum has the rare talent of telling searing, visceral truths in a witty, funny, punchy way, that almost makes you forget that he's opened the window to share something personal, real, heartbreaking and hopeful. The Life and Crimes of Hoodie Rosen is a vital voice in Jewish YA canon." –Katherine Locke, Sydney Taylor Honor author of The Girl with the Red Balloon
* "Funny, smart, moving, courageous, and so timely it almost hurts." –Kirkus, *STARRED REVIEW*
* "Blum tackles themes of acceptance and community [in] this impressively drawn story." –Publishers Weekly, *STARRED REVIEW*
* "A sharply written coming-of-age story whose protagonist, like any teen, is figuring out where he fits in, under circumstances that are thought-provoking and at times heart-wrenching." –Horn Book Magazine, *STARRED REVIEW*
"Blum's novel is well plotted, instructive in its portrayal of Orthodox life, and dramatic...with some much-needed humor." –Booklist
"A great addition to a diverse book collection for any YA library." –School Library Journal