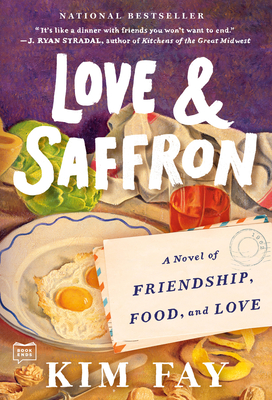 Love & Saffron: A Novel of Friendship, Food, and Love
Publication Date:
February 7th, 2023
Publisher:
G.P. Putnam's Sons
Usually Ships in 1 to 5 Days
Love & Saffron reminds us of the beauty of letter writing. I loved the simplicity of this book — it filled my heart with love and connection to the human spirit, and left me with the desire to kindle a friendship by sending a letter.
February 2022 Indie Next List
Delightful and warm, this historical novel in letters will charm readers — and whet their appetites with the rich food descriptions. It's the perfect blend of 84 Charing Cross Road and Julie & Julia.
Spring 2023 Reading Group Indie Next List
Description
The Instant National Bestseller and #1 Indie Next Pick
 
In the vein of the classic 84, Charing Cross Road, this witty and tender novel is a sensuous experience of food and a deep friendship between two very different women in 1960s America.
Two strangers. One recipe. A friendship for the ages.
 
Creamy risotto alla Milanese. Mussels in a hot, buttery broth. Chicken spiced with cinnamon and cloves. Joan Bergstrom and Imogen Fortier understand the key to a savored life—delicious food. Young Joan is just discovering herself as a foodwriter in bustling Los Angeles, while experienced columnist Imogen is settled in her decades-long marriage on Camano Island outside Seattle. When Joan sends a fan letter to Imogen with an enclosed packet of saffron and a recipe, their journey of culinary exploration and soul-deep friendship begins. A long-lost flavor surfaces buried memories, and a quest to make carne asada opens the doors of a sheltered life. Into this beautiful, intimate world comes the ultimate test of their friendship, and of their belief that food and love can sustain us during our darkest hours.
Praise for Love & Saffron: A Novel of Friendship, Food, and Love
One of Bookreporter's Favorite Books of 2022
One of The Buzz Magazine's Best Books of 2022
Shortlisted for the 2022 RUSA Reading List for Relationship Fiction
One of Zibby Mag's Ten Books to Awaken Your Appetite
One of Library Journal's Historical Fiction Bestsellers for June 2022
One of Booklist's Editors' Choice for Audiobooks
One of Wit and Delight's 6 Meaningful, Captivating Books to Gift this Holiday Season
"Impossible to put down… By the end, I was shedding tears along with the characters, and felt as if I'd made two friends. This is an irresistible story of two women from a lost time, both determined to make the best of things." —The Seattle Times

"Delicious food, wonderful characters, and adventures abound in this delightful story that simmers with affection." —Christian Science Monitor

"Food is far from the only thing to provide nourishment: I absolutely loved this novel….I wanted to go on reading it forever." —Nigella Lawson, author of Cook, Eat, Repeat

"Insanely cozy and has stayed with me for months. Be prepared to crave literally every dish mentioned including a cold glass of Chablis and clams…From recipes to sickness, racism, and love, two unlikely women face the worlds they live in and find comfort in each other." –Zibby Mag

"Unutterably delightful… Perfect for those burned out by current news cycles, Love & Saffron is a gentle escape to the past, and also a reminder both that others have survived 'unprecedented times,' and that deep connections can be made even when people are physically separated." —Shelf Awareness

"Part historical fiction, part friendship saga, and part carnival for the senses, Love & Saffron isn't just for food lovers—it's an ode to risk-takers, trailblazers, and the chefs in all of us….A sweet, savory, and emotional pleasure. It's like a dinner with friends you won't want to end." —J. Ryan Stradal, author of Kitchens of the Great Midwest

"The story leaves the reader wanting more-more recipes, more letters, more time in the gentle, unfolding friendship of these two women. A glimpse into a friendship that doesn't hesitate to touch on joy, sadness, love, and death." —Kirkus Reviews

"A delectable second novel showing how food can bring people together, even across distances and cultures…Fay's emotionally generous novel demonstrates how people's worlds can expand when they open themselves to new possibilities. Readers will be touched by this enriching tale and inspired to embark on their own international culinary adventures." —Booklist

"This gentle story about female friendship is sure to be a hit with foodies and fans of early 1960s America." —Historical Novels Review

"Warm, delicious, and absolutely satisfying—I devoured it in one enthusiastic gulp!"—Meg Waite Clayton, author of The Last Train to London and The Postmistress of Paris