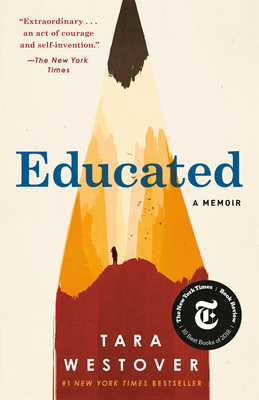 Educated: A Memoir
Publication Date:
February 8th, 2022
Publisher:
Random House Trade Paperbacks
Usually Ships in 1 to 5 Days
Tara Westover is barely 30; could she really write a necessary and timely memoir already? Absolutely. Raised largely 'off the grid' in rural Idaho - without school, doctor visits, a birth certificate, or even a family consensus on the date of her birth - Tara nevertheless decides she wants to go to college. This is a story in two parts: First, Tara's childhood working in a dangerous scrapyard alongside her six siblings, her survivalist father, and her mother, a conflicted but talented midwife and healer, while fearing Y2K and the influence of the secular world; then, her departure from her mountain home to receive an education. Both halves of her story are equally fascinating. Educated is a testament to Tara's brilliance and tenacity, a bittersweet rendering of how family relationships can be cruel or life-saving, and a truly great read from the first page to the last.
March 2018 Indie Next List
Description
#1 NEW YORK TIMES, WALL STREET JOURNAL, AND BOSTON GLOBE BESTSELLER • One of the most acclaimed books of our time: an unforgettable memoir about a young woman who, kept out of school, leaves her survivalist family and goes on to earn a PhD from Cambridge University
 
"Extraordinary . . . an act of courage and self-invention."—The New York Times
 
NAMED ONE OF THE TEN BEST BOOKS OF THE YEAR BY THE NEW YORK TIMES BOOK REVIEW • ONE OF PRESIDENT BARACK OBAMA'S FAVORITE BOOKS OF THE YEAR • BILL GATES'S HOLIDAY READING LIST • FINALIST: National Book Critics Circle's Award In Autobiography and John Leonard Prize For Best First Book • PEN/Jean Stein Book Award • Los Angeles Times Book Prize
 
Born to survivalists in the mountains of Idaho, Tara Westover was seventeen the first time she set foot in a classroom. Her family was so isolated from mainstream society that there was no one to ensure the children received an education, and no one to intervene when one of Tara's older brothers became violent. When another brother got himself into college, Tara decided to try a new kind of life. Her quest for knowledge transformed her, taking her over oceans and across continents, to Harvard and to Cambridge University. Only then would she wonder if she'd traveled too far, if there was still a way home.
 
"Beautiful and propulsive . . . Despite the singularity of [Westover's] childhood, the questions her book poses are universal: How much of ourselves should we give to those we love? And how much must we betray them to grow up?"—Vogue

ONE OF THE BEST BOOKS OF THE YEAR: The Washington Post, O: The Oprah Magazine, Time, NPR, Good Morning America, San Francisco Chronicle, The Guardian, The Economist, Financial Times, Newsday, New York Post, theSkimm, Refinery29, Bloomberg, Self, Real Simple, Town & Country, Bustle, Paste, Publishers Weekly, Library Journal, LibraryReads, Book Riot, Pamela Paul, KQED, New York Public Library
Praise for Educated: A Memoir
"Westover has somehow managed not only to capture her unsurpassably exceptional upbringing, but to make her current situation seem not so exceptional at all, and resonant for many others."—The New York Times Book Review
"Westover is a keen and honest guide to the difficulties of filial love, and to the enchantment of embracing a life of the mind."—The New Yorker

"An amazing story, and truly inspiring. It's even better than you've heard."—Bill Gates
"Heart-wrenching . . . a beautiful testament to the power of education to open eyes and change lives."—Amy Chua, The New York Times Book Review
"A coming-of-age memoir reminiscent of The Glass Castle."—O: The Oprah Magazine
"Westover's one-of-a-kind memoir is about the shaping of a mind. . . . In briskly paced prose, she evokes a childhood that completely defined her. Yet it was also, she gradually sensed, deforming her."—The Atlantic
"Tara Westover is living proof that some people are flat-out, boots-always-laced-up indomitable. Her new book, Educated, is a heartbreaking, heartwarming, best-in-years memoir about striding beyond the limitations of birth and environment into a better life. . . . ★★★★ out of four."—USA Today
"[Educated] left me speechless with wonder. [Westover's] lyrical prose is mesmerizing, as is her personal story, growing up in a family in which girls were supposed to aspire only to become wives—and in which coveting an education was considered sinful. Her journey will surprise and inspire men and women alike."—Refinery29

"Riveting . . . Westover brings readers deep into this world, a milieu usually hidden from outsiders. . . . Her story is remarkable, as each extreme anecdote described in tidy prose attests."—The Economist
"A subtle, nuanced study of how dysfunction of any kind can be normalized even within the most conventional family structure, and of the damage such containment can do."—Financial Times
"Whether narrating scenes of fury and violence or evoking rural landscapes or tortured self-analysis, Westover writes with uncommon intelligence and grace. . . . One of the most improbable and fascinating journeys I've read in recent years."—Newsday