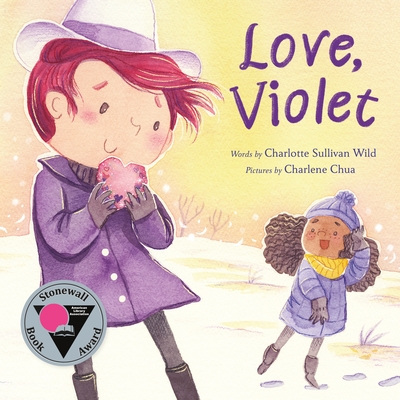 Love, Violet
Publication Date:
January 4th, 2022
Publisher:
Farrar, Straus and Giroux (BYR)
Usually Ships in 1 to 5 Days
Description
Stonewall Book Award Winner
Lambda Literary Award Finalist
Charlotte Huck Honor Book

Perfect for Valentine's Day, Love, Violet by Charlotte Sullivan Wild and Charlene Chua is a touching picture book about friendship and the courage it takes to share your feelings.

Only one person
makes Violet's heart skip
Of all the kids in Violet's class, only one leaves her speechless: Mira, the girl with the cheery laugh who races like the wind. If only they could adventure together! But every time Violet tries to tell Mira how she feels, Violet goes shy. As Valentine's Day approaches, Violet is determined to tell Mira just how special she is.
Charlene Chua's luminous watercolors bring to life this sweet and gentle picture book about friendship, love, and the courage it takes to share your heart.
Praise for Love, Violet
"The gentle, child-friendly romance at the heart of the story is a perfect celebration of courage and queerness, and earnest, awkward Violet is a protagonist every reader will root for." —Kirkus, STARRED REVIEW
"Valentine's Day brings a shy child named Violet the chance to connect with her crush, Mira, in Sullivan Wild's uplifting wintry tale...a race through the snow—choreographically captured with dancelike grace in Chua's simple, light-filled watercolors—brings the duo together at last, making the holiday one of joyful acceptance."
—Publishers Weekly, STARRED REVIEW
"The sensitive third-person narrative details Violet's thoughts and emotions throughout the story and reveals Mira's in the happy ending. Capturing the girls' distinct personalities, the illustrations glow with warm, delicate colors... An appealing picture book for reading aloud, particularly in the weeks leading up to Valentine's Day."
—Booklist