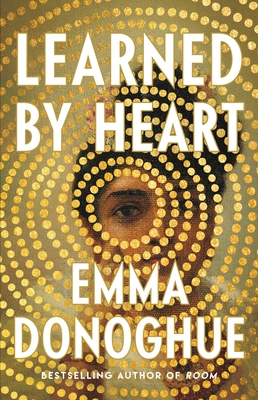 Learned by Heart
Publication Date:
August 29th, 2023
Publisher:
Little, Brown and Company
Usually Ships in 1 to 5 Days
Description
"A wrenching love story" (Chris Bohjalian, The Washington Post) based on the true story of two girls who fall secretly, deeply, and dangerously in love at boarding school in 19th century York, from the bestselling author of Room and The Wonder.
Drawing on years of investigation and Anne Lister's five-million-word secret journal, Learned by Heart is the long-buried love story of Eliza Raine, an orphan heiress banished from India to England at age six, and Anne Lister, a brilliant, troublesome tomboy, who meet at the Manor School for young ladies in York in 1805 when they are both fourteen.
 
Emotionally intense, psychologically compelling, and deeply researched, Learned by Heart is an extraordinary work of fiction by one of the world's greatest storytellers. Full of passion and heartbreak, the tangled lives of Anne Lister and Eliza Raine form a love story for the ages.
Praise for Learned by Heart
Praise for Learned By Heart-
Emma Donoghue is among the most fearless contemporary novelists we have: an immensely talented writer who is a great storyteller and, based on her extensive body of work, unafraid of subjects that give her less-courageous peers pause... Learned By Heart is a wrenching love story, both queer and multiracial. —Chris Bohjalian, The Washington Post
"Donoghue's affection for the savvy, strange Lister is obvious, and the author makes her teenage couple's partnership both deeply serious and wonderfully naive...but the reader knows from the first page that their infatuation won't last, and the novel is ultimately a tender, sad account of first love"—Emma Sarappo, The Atlantic
"Bold and dazzling...Emma Donoghue has proven herself a masterful storyteller of historical worlds populated with deeply imagined characters. Though the universes she creates seem like they could expand infinitely, she builds small, confined spaces at the center from which grow rich possibilities. This is all especially true of  Learned by Heart, a story of risk, love and two young women discovering themselves by way of each other...The language here—of deep friendship and longing, text and subtext—is captivating. Sentences sing, and details shine. Donoghue has a remarkable ability to hold you in a moment, allowing you to see as a character does, knowing the questions each breath contains..."—BookPage
"...unabashedly romantic, dreamlike....a wonderfully rich portrait of boarding school life, both a mirror of the outside world's social hierarchies and a hothouse of complex interactions among girls striving to become women. As always, her narrative is grounded in sharp observation, strong characters, and nice period detail...a treat for her many fans."—Kirkus Reviews
"Richly imagined...the intimacies of isolated schoolgirls yield to full-tilt desire. That first fire eventually sputters, but not without leaving behind some beautiful embers."—Vogue
"Immersive, sprightly, and sensual ... the characters' delight in language makes for playful prose full of euphemisms, Latin phrases, and French proverbs. And in the center of it all is a tender record of groundbreaking young passion."—Rebecca Foster, Shelf Awareness
"Impressive...this melancholic love story is imbued with deep feeling and generosity toward its characters."—Publishers Weekly
"Spellbinding...everything about Learned By Heart strikes me as nearly perfect...Donoghue is superb at capturing the unmediated hearts of love-drenched adolescents: raw, vulnerable, disorienting, almost painfully excitable."—Claude Peck, The Star Tribune
"Learned By Heart gorgeously reimagines Anne and Eliza's relationship, conveying the intense, heady experience of discovering your first love."—Real Simple
"Full of passion and heartbreak."—Geek Girl Authority
"The beauty of Donoghue's thoroughly researched novel rooted in Lister's famous diary lies in the ways it explores how unequal the effects of love can be on two souls...It's truly a tragedy when your life's best moments are already in the rearview mirror"—Poornima Apte, Booklist
"Donoghue is at her very best evoking the mysteries and miracles of first love ... Simply and without a shred of sentimentality, she evokes a relationship that is convincing and exquisitely touching."—Clare Clark, The Guardian (UK)
"The perils of isolation and confinement are once again countered by the unexpected grace and tenderness captivity can sometimes bring ... This novel is based on a true story; both women were born in 1791 and Anne Lister kept a 5mn word diary, but you wouldn't know it. The book wears its painstaking research like the light shifts the schoolgirls sleep in."—Susie Boyt, Financial Times (UK)